Americans' belief in global warming sinks as Republicans shift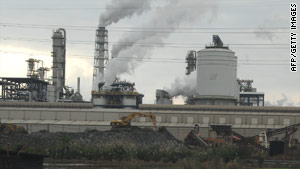 A poll shows that growing skepticism about global warming among Republicans is helping sink overall U.S. belief in it.
STORY HIGHLIGHTS
Percentage of Americans who believe in global warming down 8 points since June '08
Belief held steady for Democrats, dropped 11 points among Republicans
CNN polling director: Growing GOP skepticism may be reaction to having a Dem as president
A look at the scientific debate on global warming on tonight's Campbell Brown, CNN, 8 ET
Global Warming: Trick or Truth? For U.S. viewers, tune in to "Campbell Brown" for a look into the science, skepticism and secrets surrounding global climate change. CNN, Monday, 8 p.m. ET.

For international viewers, tune into "Connect the World" for analysis and reaction on the opening day of the U.N. climate summit in Copenhagen, Denmark. CNN International, Monday, 10 p.m. CET
Washington (CNN) -- A rise in skepticism among Americans over global warming is mostly due to changes among Republicans, according to a new national poll.
The CNN/Opinion Research Corporation survey, released Monday, indicates that two-thirds of all Americans believe global warming is a proven fact. That's down 8 percentage points since June 2008, with views among Democrats holding steady and Republicans' belief in global warming dropping 11 points.
"The growing skepticism among Republicans, with no matching shift among Democrats, suggests that the changes measured in this poll may be a reaction to having a Democrat in the White House rather than a shift in underlying attitudes toward global warming," said Keating Holland, CNN polling director.
The poll's release come as a United Nations climate summit opened in Copenhagen, Denmark. That global conference began under a cloud of accusations, after international attention the past two weeks over hacked e-mails that suggest some scientists faked data to support the argument of global warming.

iReport: Share your thoughts on climate change
But Holland noted that polls released last month from other organizations have found similar shifts in views on global warming for several months. That indicates the changes in the new CNN survey are not the direct result of the media attention to the leaked e-mails from climate researchers, he said.
According to the survey, roughly a third of the people who believe in global warming think it is due to natural causes, rather than manmade causes such as industrial emissions. As a result, the number who say that global warming is caused by humans has dropped from 54 percent last summer to 45 percent now.
The poll indicates the number who say the United States should reduce emissions even if other countries do not follow suit has also dropped, from 66 percent in 2007 to 58 percent today.
"That drop is due to roughly equal changes among Republicans and Democrats, suggesting that economic conditions, rather than political factors, may be at play," Holland said.
Why does a majority support lowering emissions when most Americans no longer think emissions cause global warming?
"Americans may have other reasons to support a reduction in carbon dioxide and other gases," Holland said. "Pollution is pollution, and the country has been worried about clean air long before global warming became a topic of discussion."
The CNN/Opinion Research Corporation poll was conducted December 2-3, with 1,041 adult Americans questioned by telephone. The survey's sampling error is plus or minus 4.5 percent for the overall sample.
CNN Deputy Political Director Paul Steinhauser contributed to this report