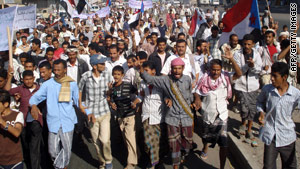 Yemenis protest last week against a government raid that targeted suspected al Qaeda members.
STORY HIGHLIGHTS
President Ali Abdullah Saleh accepted increased help in fighting al Qaeda in Yemen
Senior U.S. official: "Solid intelligence" from U.S. and Yemen persuaded him
Official says there is growing U.S. involvement in fighting al Qaeda in Yemen
The Pentagon is spending around $66 million this year to assist Yemen
Washington (CNN) -- "Solid intelligence" from U.S. and Yemen services finally persuaded Yemeni President Ali Abdullah Saleh last summer to accept increased help in fighting al Qaeda in his country, a senior U.S. official told CNN.
After years of pressure from the United States to crack down on al Qaeda in Yemen, Saleh was persuaded to accept help after he was presented with intelligence that al Qaeda "was targeting inner-circle Yemeni leaders," and that there was a growing number of terrorist training camps in Yemen, the official said.
The official, who declined to be named due to the sensitivity of the situation in the wake of the attempted attack on Northwest Airlines Flight 253, detailed to CNN growing U.S. involvement in fighting al Qaeda in Yemen.
A Nigerian man is accused of trying to blow up the Northwest flight carrying 300 passengers from the Netherlands to Michigan on Christmas Day. A federal security bulletin obtained by CNN said suspect Umar Farouk AbdulMutallab claimed the explosive device used Friday "was acquired in Yemen along with instructions as to when it should be used."
Meanwhile, Yemen is taking steps to combat terrorism. On Tuesday, Yemen's parliament ratified the International Convention for the Suppression of Financing of Terrorism, the official SABA state news agency reported. The move aligned Yemen with the United States on expanding the fight against terrorism to sources of funding.

Video: Is Yemen the next Afghanistan?

Video: An al Qaeda link?
According to the SABA report, ratifying the convention "comes within the state efforts to combat terrorism in all its forms." The news agency said counterterrorism forces killed 64 suspects and arrested 29 others in operations against al Qaeda hideouts and training sites in the past two weeks.
Before the Christmas incident, Yemeni officials already were in the process of reviewing visa procedures, Mohammed Albasha, spokesman for the Yemeni Embassy in Washington, told CNN. In the wake of the incident, the nation is completely revamping its visa procedures.
All visa applications must now be sent back to Yemen's capital, Sanaa, for tighter security screening and checking against various watch lists, including Interpol, before a visa will be approved by the nation's Interior Ministry. "We are going to be more vigilant when it comes to issuing visas," Albasha said.
Gen. David Petraeus, head of the U.S. Central Command, and John Brennan, President Obama's counterterrorism adviser, visited Saleh in Yemen in the summer to lay out the threat of terrorism. The official said that following those meetings it "was clear" that Saleh was finally seeing the threat as "much more alarming" than he had previously.
Petraeus had been laying the groundwork with the Obama administration that al Qaeda in Yemen was a growing threat, and Petraeus was setting up U.S. military assistance efforts, including the use of special operations forces in Yemen to help train Yemeni forces on counterterrorism operations, the official said.
In part, the United States thinks Saleh turned around at that time also because of pressure from Saudi Arabia and other Persian Gulf nations, especially after the attempted assassination of Saudi Deputy Interior Minister Mohammed bin Naif by a suspected al Qaeda operative coming from Yemen. The United States also provided intelligence that al Qaeda was planning to strike targets in Sanaa.
The Pentagon is spending about $66 million this year to provide Yemen with security and military assistance, including training Yemeni counterterrorist forces.
But the U.S. official and other administration sources confirmed that behind the scenes much more is going on. U.S. military and intelligence agencies are providing not only training, but weapons and intelligence-targeting information.
This official, as well as other administration officials, repeatedly have declined to say whether U.S. warplanes, drones or cruise missiles have been used in several recent strikes against al Qaeda targets in Yemen.
Concerns about the growing al Qaeda safe haven have become more chronic with the declining security situation in Yemen. The official cited a rebellion by Huti tribes in the north, and secessionist activity in the southern tribal areas.
Oil production has been declining, which has led to budget cuts in Yemen's security apparatus.
Other factors that have made Yemen a concern include a younger population, hundreds of thousands of Somali refugees and an increasing water shortage that is exacerbated by the increased production of the drug khat, which contains an amphetamine-like substance and which requires more water than many other crops.
Also, a substantial arms- and drug-smuggling network is active in Yemen, with intelligence indicating some arms shipments to Hamas via Sudan and then Egypt.
The official said not only are senior al Qaeda leaders "putting down roots" in Yemen, but just across the Gulf of Aden, Somalia has become home to al Qaeda in East Africa. The organization as ties to terrorists in Yemen, as well as to senior al Qaeda leaders across North Africa and in the Pakistani border region with Afghanistan.
CNN's Mohammed Jamjoom and Elise Labott contributed to this report.