By Mairi Mackay
CNN





LONDON, England (CNN) -- To mark President Barack Obama's inauguration, the Screening Room takes a look at some of the great presidents who have graced our cinema screens.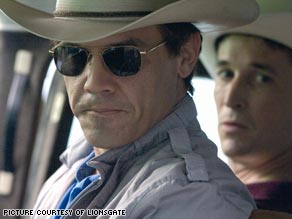 Josh Brolin does a spot on turn as George "Dubya" Bush in 'W.' without resorting to cheap tricks and impersonation.
Some are fictional, some are thinly disguised impersonations of real presidents, some don't get much done, while others are the personification of authority.
As ever, these are our choices and if you disagree or think we've missed one out let us know in the Sound/Off box below.
10. 'W.' (Oliver Stone, 2008)
Actor: Josh Brolin Screen name: George "Dubya" Bush

Josh Brolin deserves to be lauded for his excellent turn as Dubya, which is spot on without resorting to cheap tricks and impersonations. Stone's film is notable for being the first biopic of an incumbent president, even if it did sidestep dealing with some of the more unsavory aspects of Dubya's time in power in favor of mocking his apparently limited intellect.
9. 'Escape from New York' (John Carpenter 1981)
Actor: Donald Pleasence Screen name: President
In 1997, Manhattan has become a giant prison island from which none can escape -- including the sleazeball U.S. president, played by Donald Pleasence. Cue Snake Plissken, sent in on a suicide mission to pull the First Chief out from a rag-tag of feral outlaws. Most memorable scene: one kidnapper producing the presidential ring, with finger still attached, as evidence that they've got the guy in the Oval Office.
8. 'Mars Attacks!' (Tim Burton, 1997)
Actor: Jack Nicholson Screen name: President James Dale

Nicholson mines a fruitful seam of comedy for his amusing turn as a useless president (abetted by even more clueless advisers) who fails to take control during an invasion of homicidal aliens in Burton's quirky homage to 1950s and 1960s alien invasion movies. Glenn Close is also suitably over the top as the First Lady.
7. 'Deep Impact' (Mimi Leder, 1998)
Actor: Morgan Freeman Screen name: President Tom Beck

What would an Armageddon movie be without a president to look grave and deliver the bad news. And when it comes dropping the bombshell -- in this case that a giant comet is plummeting towards the Earth and there's not a whole lot they can do about it -- they don't come more dignified than Morgan Freeman.
The Screening Room
Bringing you the inside track on all aspects of the movie business around the globe.


6. 'Independence Day' (Roland Emmerich, 1996)
Actor: Bill Pullman Screen name: President Thomas J. Whitmore

If you were going to conjure up an image of a president in your mind's eye, he would probably look a bit like Bill Pullman. There's something about Pullman's preppy, square-jawed good looks that look a bit, well, presidential. As if that weren't enough reason to include him in the list, his brilliantly rousing battle speech at the end of the film clinches it.
5. 'The American President' (Rob Reiner, 1995)
Actor: Michael Douglas Screen name: President Andrew Shepherd

Andrew Shepherd is a handsome widower raising a young daughter, oh, and he's also President. As Michael Douglas is already Hollywood royalty, there's a kind of symmetry in him playing a fictional U.S. president -- and he does it well. Reiner's plot, which has the president falling for a lobbyist threatening his re-election chances, also holds a mirror up to the media and politics of the time.
Who do you think is the best movie president of the U.S.?
4. 'Primary Colors' (Mike Nichols, 1998)
Actor: John Travolta Screen name: Governor Jack Stanton

This surprisingly funny political satire does break the rules slightly as Travolta's smooth Southern governor is only running for president. However, it is a barely fictionalized account of Bill Clinton's 1992 presidential campaign, which he went on to win and deserves a place for Travolta's impersonation of Clinton which is absolutely on the money.
Don't Miss
3. 'Dave' (Ivan Reitman, 1993)
Actor: Kevin Kline Screen name: President William H. Mitchell

Kline in a double role as heartless president and, average Joe, Dave Kovic who bears an uncanny resemblance to the him. Kovic is plucked out of his life to play a body double and the plot thickens as the real president is taken ill and Kovic is handed the reins at the White House. Kline's comedic talents shine in muddles, mistakes and misunderstandings that ensue in this endearing early 1990s comedy.
2. 'Air Force One' (Wolfgang Petersen, 1997)
Actor: Harrison Ford Screen name: President James Marshall

Everyone's favorite hero turns it up to 10 as a U.S. president whose plane is hijacked by Russian terrorists. In real life, the President would probably sit tight and wait for the secret service agents to do what they do best, but this is Hollywood and President Marshall takes matters into his own hands. When he growls "GET.OFF.MY.PLANE!" and shoves the last hijacker out of the cargo shute it's a punch the air moment for the American way.
1. 'Dr. Strangelove or: How I Learned to Stop Worrying and Love the Bomb' (Stanley Kubrick, 1964)
Actor: Peter Sellers Screen name: President Merkin Muffley

Sellers pulls off a triple performance in this unlikely comedy about an accidental nuclear attack, including President Merkin Muffley, who is attempting to save the world. He also plays Captain Lionel Mandrake, a man on a mission to find a secret code, and, of course, who could forget his eccentric, wheelchair-bound German scientist, Dr Strangelove.
E-mail to a friend