(InStyle) -- Week after week, contestants on "American Idol" face scrutiny from judges Simon Cowell, Paula Abdul, Randy Jackson and Kara DioGuardi, not only for their song choices and performances, but also for their outfits.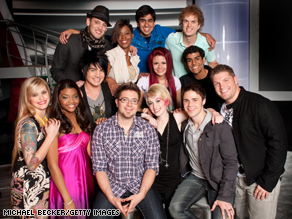 Every week, contestants on "American Idol" are judged for their performances and their outfits.
It's no wonder: the right wardrobe choices have been instrumental in the success of past "Idols," like Carrie Underwood, who went from girl-next-door to red-carpet stunner after undergoing a post-'Idol' makeover.
"She looks very Hollywood and glamorous, but not so chic that she turns off her fan base," says InStyle's fashion director Hal Rubenstein of Underwood.
"For Carrie, it's an easy, approachable glamour that's soft, pretty and not too edgy -- a transformation that came to be only after she truly 'made it.'"
For other contestants, like Katharine McPhee and Jordin Sparks, the evolution from reality TV star to stylish superstar started on the show.
Indeed, as "Idol" hopefuls try on different musical styles over the course of the competition, they also experiment with fashion: "I have to help them build an image," says Miles Higgins, the show's chief stylist. "From looking at the auditions and being at Hollywood week, I can spot people and envision them."
Starting this week, the top 13 begin working with Higgins and his co-stylist, Soyon An.

See photos of their evolving style »
Higgins works primarily with the male contestants and has been with the show since its second season. "It always...gets more glam as the show progresses," he says. "The contestants get a bit more savvy."
Several season-eight contestants already possess distinct styles that seem to be working.
Leading the pack is Adam Lambert, whose gothic-inspired look -- black spiky hair, eyeliner, chain necklaces and skinny jeans -- perfectly fits with the rock songs he sings.
Megan Joy Corkrey's quirky singing style has earned her praise from the judges, who celebrate her modern approach and compare her to artists like Adele and Amy Winehouse.
Her unique personal style -- flirty dresses, bright red lips and a sleeve of tattoos -- helped earn her spot in the top 13. "I think that we need you," DioGuardi told her after she sang KT Tunstall's "Black Horse and the Cherry Tree." "You're different."
Matt Giraud's graphic T-shirt, blazer and jeans ensemble, which he paired with a fedora and fringed scarf, got mixed reviews from the judges on March 5th's wildcard episode.
"Great choice of song," Simon Cowell said. "My criticism would be I hate what you're wearing because it's a little bit try-hard and I saw bits of Taylor Hicks coming through."
Jasmine Murray, Lil Rounds, Alexis Grace, Allison Iraheta and Kris Allen have shown promise from a fashion perspective with unique styles that the judges -- and America -- seem to like so far.
The biggest makeovers will likely come from the remaining contestants -- Anoop Desai, Danny Gokey, Jorge Nuñez, Michael Sarver and Scott Macintyre. They've succeeded so far thanks to their skills and personalities, and now it's time for Higgins and An to work their styling magic.
"We're going to do more of a transformation," says Higgins. "As the weeks go by, they'll realize how important it is to reinforce their image."
American Idols are born and made on live TV. Visit InStyle.com each week to watch the contestants transform and get details on what they're wearing.
E-mail to a friend


Get a FREE TRIAL issue of InStyle - CLICK HERE!
Copyright © 2009 Time Inc. All rights reserved.
All About American Idol • Fashion and Style