(CNN) -- He's the man who helped make "Slumdog Millionaire" an international hit, scoring the soundtrack of the Oscar winning film. Despite his performance at the Oscars ceremony and being caught up in all the glitz and adulation, Rahman is a reluctant star.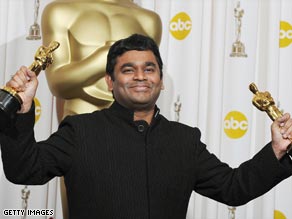 Feeling like a millionaire: AR Rahman picked up two Oscars for best original song and best score.
He's worked on films since he was a teenager, taking over the role of family breadwinner after his father died and followed in his footsteps as a composer.
While he had stints writing advertising jingles in India, composing for films has been his life's work so far, yet from his studio in Chennai he admitted to CNN he didn't want to score films.
"I kept saying next year I'll quit, next year I'll quit. And finally because I was sucked into it more and more, now I have the Oscars," he said.
His Oscar performance and acceptance speech was one of the most memorable at this year's awards.
Show times
Wednesday, May 20: 13.30 GMT (20.30 Hong Kong)
Thursday, May 21: 04.00 GMT (11.00 Hong Kong)
Saturday, May 23: 05.30, 15.30, 19.30 GMT (12.30, 22.30, 02.30 Hong Kong)
Monday, May 25: 03.00 GMT (10.00 Hong Kong)
Tuesday, May 26: 16.30 GMT (23.30 Hong Kong)

"I thought if I get it I'll be quiet, if I don't get it I'll be quiet, so I was training my mind not to get over-emotional. So when I first got it I didn't feel it at all, it was like a rehearsal for me. When I finished my performance then I felt at ease and then I became very philosophical as you know, and I chose love over hate and all this stuff," he told CNN.

Feted by many in media, his hit "Jai ho" was covered by the Pussy Cat Dolls, but the softly spoken Rahman doesn't find it hard to remain grounded. Rahman runs a music school in Chennai, the KM Music Conservatory that keeps him motivated and reminds him that music has a potency that can transform lives.

"Music can do so many things. I have my foundation, I have my music school. I have people teaching, kids are learning, so I take this as an advantage, the popularity and taking that and putting it into good things, which motivated me to work harder," he said.

As well as working on more Hindi films, Hollywood beckons, if only for a new experience. There have also been rumors he may score the next James Bond film.
"I have a couple of offers from Hollywood. Pure American movies which I thought for the heck of it let's do it and a couple of other surprises that you'll know very soon if it works out. Big surprises I think," he said.
E-mail to a friend