(CNN) -- Thanks to the steady march of technology it's now easier than ever to make a film.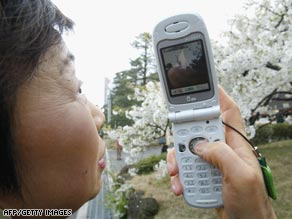 There's no excuse for you not to exercise your moviemaking talents with the means are at your fingertips.
To test this theory out The Screening Room issued a challenge earlier this year. We asked any potential moviemakers to showcase their talents by making a short film on a mobile phone.
The only criteria was to ensure it ran under five minutes in length. Beyond that we wanted you to allow your imaginations and handhelds to run free.
The response was some truly creative and

visually impressive results », including a moody noir featuring a girl and gun, as well as a slice of cinema verité featuring a mother giving birth.
In the end the judges picked three very different movies for the top three places. In second and third spots respectively were a short dealing with irritating children and a lament on lost childhood.
In the end it was the noir that won the day. It was the French film director Jean-Luc Godard who famously quipped that all you need to make a film is a girl and a gun.


Watch The Screening Room's winning mobile movies »
Brazilian director João Paulo Miranda Maria took this idea and added one last element: a mobile phone, of course. The result was an atmospheric black and white short chronicling a woman with a definite axe to grind.

The Screening Room production team judged the entries, which proved that you really don't need a big budget and an army of crew to make a beautiful movie.
To all the budding directors who took part in the competition a big thank you and good luck with your moviemaking careers.
E-mail to a friend