(Entertainment Weekly) -- In Quentin Tarantino's "Inglourious Basterds" (out Friday) -- a simultaneous tribute to and deconstruction of war movies and '40s noir -- a special unit of Jewish-American soldiers is sent behind enemy lines to spread shock and awe among German troops in Nazi-occupied France.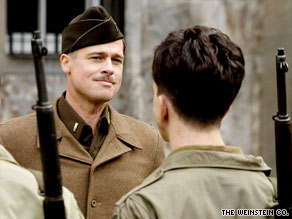 Brad Pitt leads the cast of Quentin Tarantino's new film, "Inglourious Basterds."
Think "The Dirty Daven."
"It's a revenge fantasy. That's the big hook that would put me in the theater -- and I'm not even Jewish," director Tarantino told EW earlier this year of his latest, which sends the regiment of cocky malcontents on a quest for Nazi scalps (brain splatter included).
Chief among the players is Brad Pitt, who delved so deeply into the part of Lt. Aldo Raine, leader of the Semitic squad, that he stayed in character on the set virtually all the time, Tarantino said.
B.J. Novak ("The Office"), who plays one of Raine's soldiers, Pfc. Utivich, summed up the experience: "There was one night of filming in Potsdam on this beautiful old street in the middle of winter. Brad Pitt was there in a tuxedo. Quentin Tarantino was framing a shot. And I thought, I still don't know what it's like to make a movie. Because this is the movie version of making a movie. This is what making a movie is like in movies about making movies." See more on EW's Movie Critics blog
Here are more EW Picks for the week of August 16:
"Shorts" (out Friday). The title of Robert Rodriguez's latest film doesn't refer to summer clothes or diminutive tykes, but to a series of intersecting vignettes (featuring Jon Cryer, Leslie Mann and William H. Macy) narrated by an 11-year-old boy (Jimmy Bennett). "You're at the mercy of how he remembers things, out of order and skipping around," writer-director Rodriguez told EW. "It's like 'Pulp Fiction' for kids." But relax, parents. There are no loquacious hitmen -- just a magic rock that drops into a Texas neighborhood after a storm, wreaking havoc when the kids' most inane wishes come true.
Don't Miss
"Post Grad" (out Friday). Alexis Bledel ("Gilmore Girls") plays a determined but naive college grad who ends up back home with her dysfunctional family. Zach Gilford ("Friday Night Lights") plays the long-suffering best friend with a secret crush on her. Call it "When Rory Gilmore Met Matt Saracen." "People still see me as Rory," Bledel says, "and this kind of picks up where 'Gilmore Girls' left off." As for Gilford, he admits that he -- gasp! -- never followed Bledel's show, but sensed a kindred soul: "She's such a dork, and that's why I love her."
TV
"Mad Men" (10 p.m. Sunday, AMC). How we've missed the slickest show on television, anchored by Don Draper's moody crisis of the soul and Joan's blessed hips. The wait to get back into the '60s advertising world has been a long and fraught one, with rumors that series creator Matthew Weiner and AMC might part ways just as they had hooked a loyal audience, but the dawn of season 3 is finally upon us. In the premiere, Betty's pregnant belly has bloomed, the Brits have invaded the Sterling Cooper office and -- help us all -- Joan is still engaged to her brute of a fiance. Plus, Pete Campbell's worminess remains intact, and poor Salvatore struggles to maintain the image of a happily married man.
"Shaq Vs." (9 p.m. Tuesday, ABC) See LeBron James' new NBA running mate go head-to-head with the world's top athletes -- in their own sports -- in this new reality series. The premiere is scheduled to pit Shaq vs. Super Bowl winning quarterback Ben Roethlisberger for a football challenge, including a training session at the Pittsburgh Steelers practice facility and a 7-on-7 game.
"Project Runway" (10 p.m. Thursday, Lifetime). Even the most stitch-and-bitch-starved addicts should be satisfied by this evening's all-"Runway"-related action. First up at 8 p.m. is "Project Runway: All-Star Challenge," a two-hour special that reunites some of our faves from years past. Then comes the blessed main event: the debut of "Runway's" delayed season 6 on a new network. We'll finally meet the 16 designers aiming for catwalk glory in L.A. under the ... uh, discerning eye of guest judge Lindsay Lohan. Finally, there's the premiere of "Models of the Runway" at 11 p.m., a half-hour spinoff about the show's glamazons. Make it work, Lifetime! Get all the latest TV scoop from EW's Michael Ausiello
Music
Reba McEntire, "Keep On Loving You" (out Tuesday). Reba McEntire leads off her 31st album with "Strange," an addictively sinister kiss-off that the next 12 tracks struggle to match, writes EW's Whitney Pastorek. Though McEntire's voice has aged well, few of these tunes provide it enough of a challenge, and the ones that do often sound like something she's already done better.
Sean Paul, "Infinite Blaze" (out Tuesday). How can a vocalist with an unchanging monotone be this charismatic? Sean Paul's limitless energy carries him through 20 tracks, helping him tap-dance over every flashy dancehall riddim that comes his way.
Third Eye Blind, "Ursa Major" (out Tuesday). Third Eye Blind's fourth album, its first since 2003, shows that frontman Stephan Jenkins' way with a hook has dimmed little since the band's mid-'90s heyday. The clunky lyrics are another thing, like in ska-rocker "Don't Believe a Word," when Jenkins sings "Rap stars brag about shooting each other?/ What ever happened to 'Brother, brother'??"
DVD
"Hannah Montana: The Movie" (out Tuesday). Miley Cyrus' big-screen hit finds our dual-life heroine in need of identity detox, which can happen only if she gets back to her simple country-girl roots by spending a few weeks in her small hometown of Crowley Meadow, Tennessee. In his review of the film, EW's Owen Gleiberman wrote that "Cyrus, as always, is a professional charmer, and the crusty folkiness of Billy Ray Cyrus as her real-life dad is as welcome as ever. But there's an awfully long stretch of country-living innocuousness before destiny beckons."
"Tyson" (out Tuesday). In this stylishly edited confessional, boxer Mike Tyson comes across as both villain and victim, pussycat and pitbull. With his soft lisp, he speaks directly to the camera about his childhood fears, triumphs and errors in judgment. Is the director in his corner? Absolutely. But that doesn't make "Tyson" any less of a knockout.
"The Simpsons: Season 12" (out Tuesday). C'mon, you remember which brilliant season this was! The one where Homer goes on a hunger strike when the Isotopes threaten to leave town, a crayon pulled out of Homer's brain transforms him into a genius, and The Who bring Springfield together after a new area code rips it apart. Plus, the discs serve up tons of commentary and Easter eggs that are actually worth the hunt.
Books
"The Law of Nines," Terry Goodkind (out Tuesday). On his 27th birthday, Alex Rahl, waiting at a crosswalk, notices a truck flying a pirate's flag barrelling straight at him and another pedestrian, an oddly dressed but striking blond woman. He quickly yanks her to safety. Jax, as she's called, turns out to be a human from another planet -- one that's embroiled in civil war. And she's come to find Alex because, unbeknownst to him, he's got powers that can help her. If it takes a while for Alex -- and the reader -- to understand what's going on, says EW's book editor Tina Jordan, it's because the writing is blocky and strained, especially during the high-octane scenes of carnage that occur every few pages.
"Born Round," Frank Bruni (out Tuesday). What should a former bulimic do when offered the position of restaurant critic for The New York Times? Frank Bruni, who has held that hugely influential job for five years, said, "Yes, thank you, yum, you bet." By then, as he chronicles in "Born Round," he had won the worst of the battles against his out-of-control appetites. It's mostly wonderful, but the downside of all this essential good cheer is that "Born Round" feels a little ... thin on crisis! The author was overweight, he stopped vomiting, he slimmed down, and he kept his girth under control even while he was paid to eat: What's the big fat deal? Pass the breadsticks. See more about books on EW's Shelf Life blog
For pop culture picks for today, click here, plus see what's new this week in movies, music, TV and more.
E-mail to a friend

CLICK HERE to Try 2 RISK FREE issues of Entertainment Weekly
Copyright 2009 Entertainment Weekly and Time Inc. All rights reserved.
All About Quentin Tarantino • LeBron James • Reba McEntire • Mike Tyson