By Lisa Respers France
CNN





(CNN) -- In an emotional interview, Whitney Houston opened up to talk-show host Oprah Winfrey about a pivotal role her mother played in getting the singer back on track.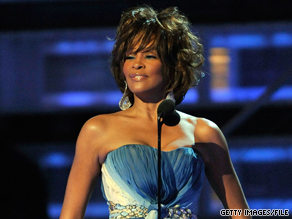 As part of her comeback, Whitney Houston shares her experiences with Oprah Winfrey.
The sit-down interview, set to air when "The Oprah Winfrey Show" returns for its 24th season Monday, offers a rare glimpse into the life of Houston who is in the midst of a much anticipated return to the spotlight.
In the interview appearing over two days, Houston shared with Winfrey how her mother, singer Cissy Houston, arrived at her daughter's house one day with sheriff's officers and a court order in hand to issue an ultimatum.
"Now looking at it, I see the love and passion that my mother had for me and she has for me," Houston told Winfrey. "She says, 'I have a court [injunction] here. Either you do it my way, or we're just not going to do this at all. We are both going to go on TV, and you're going to retire.'"

Watch Houston talk to Winfrey »
Her mother would broach no interference from Houston's now ex-husband, singer Bobby Brown, the star said, and went so far as to warn him, " 'If you move, Bobby, they're gonna take you down. Don't you make one move.' "
Houston said her mother implored her to come with her, saying, "' It's not worth it.' "
" 'I'm not losing you to the world,' " Houston said her mother told her. " 'I'm not losing you to Satan. I'm not doing this. I want my daughter. I want you back. I want to see that glow in your eyes. That light in your eye.' "
Cissy Houston, a Grammy-winning soul and gospel artist, is a former member of the Sweet Inspirations, a group that scored a few hits and sang backup for musical legends such as Aretha Franklin.

Whitney Houston's new album, "I Look to You," is her first in seven years and comes after the ending of a troubled marriage and reports of erratic behavior and allegations of drug abuse.
Houston and Brown, who has had multiple brushes with the law, appeared together with their daughter, Bobbi Christina, four years ago on the reality show "Being Bobby Brown."
E-mail to a friend

All About Whitney Houston • Oprah Winfrey • Bobby Brown