(CNN) -- The casting director of "Slumdog Millionaire" credited the director's risky decision to have actors speak Hindi through much of the film for making it "real to the core."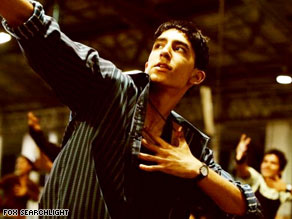 Dev Patel stars in "Slumdog Millionaire," which won the Golden Globe for best drama Sunday night.
Loveleen Tandan, who also served as co-director, called the movie's success "an amazing tsunami" that was completely unexpected.
The movie -- filmed on location in Mumbai, India, with a $15 million budget -- won Golden Globe awards Sunday for best drama, best director (Danny Boyle), best screenplay (Simon Beaufoy) and best original score (A.R. Rahman).
It's a story about a poverty-raised orphan in Mumbai who goes on the Indian version of "Who Wants to Be a Millionaire."
Tandan said casting was unusually challenging.
"I've never seen a script where the main character gets to comes alive in three age groups and all with equal screen time, almost -- and here there were three characters who were going to be portrayed in three age groups," she said.
She had to find nine people to play the three characters at ages 6, 12 and 18 years of age "who could feel each other, be like each other, look like each other at three different age groups," Tandan said.
Don't Miss
"As we went along and as I was looking, especially the youngest ones to play slum kids, I started to get a sense very early on that it needed not be in English but to be in Hindi so that it could come alive in a way that's most authentic, most sort of real to the core," she said.
She suggested to director Danny Boyle that one-third of the movie be spoken in Hindi, she said.

Watch Boyle and other "Slumdog" principals talk about their honors »
"I thought it was an idea that was probably going to get turned down because it's a movie for an international audience and needs to play everywhere and therefore needs to be in English, but he was so open to it."
A day later, after he discussed the idea with the writer and investors, he agreed, she said.
Tandan, who did not make the trip to the United States for the awards, watched from Mumbai.
"I was completely exhilarated, but with disbelief because it's a small film with no expectations," she said. "We were working under very harsh conditions on real locations here in Mumbai and trying to bring out the best intensity."

"It kind of feels surreal, but at the same time it's very heartening and really, really fantastic," Tandan said.
With the film's victories at the Critics' Choice Awards last week, it must be considered the front-runner in the Academy Awards' best-picture race. The Academy Award nominations will be announced January 22.
E-mail to a friend