By Brandon Griggs
CNN





(CNN) -- The Sundance Film Festival, celebrating its 25th anniversary in Park City, Utah, is a magnet for film geeks, starry-eyed tourists, journalist suck-ups and celebrity stalkers.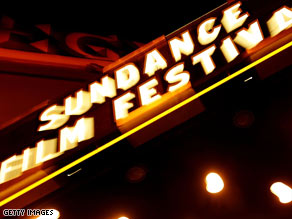 The Sundance Film Festival, now under way in Park City, Utah, attracts thousands of film geeks and stargazers.
I know, because I was all of those people.
As a former Utahn and an entertainment reporter for The Salt Lake Tribune, I went to Sundance every January for 15 years.
I wrangled my way into overcrowded parties, dutifully listened to Robert Redford speak about "politics in film," interviewed Michael Moore in his rental car and tried not to stare at Ben Affleck making out with Gwyneth Paltrow in a hotel hallway.
I also spent hours circling traffic-choked Park City for parking, froze my fingers to icy nubs, annoyed Matthew Perry and saw some 150 films -- some great and some astoundingly bad.
Being at Sundance, America's leading showcase of independent movies, was exciting, thought-provoking, frivolous and a huge hassle -- often at the same time.
But it was never dull.
There was the year mascara icon Tammy Faye Bakker and drag queen RuPaul walked arm in arm down Park City's Main Street (the odd couple were promoting "The Eyes of Tammy Faye," a documentary about Bakker's life).
Or the year Morgan Spurlock handed out Egg McMuffins at screenings of "Super Size Me," his cautionary tale about the dangers of an all-McDonald's diet.
Or the year the premiere of a documentary called "American Pimp" attracted a handful of real pimps and their entourages, causing a near-riot when there weren't enough seats.
Sundance has launched the careers of such auteurs as Steven Soderbergh and Quentin Tarantino, along with such hits as "sex, lies & videotape," "Memento," "Napoleon Dynamite" and "Little Miss Sunshine."
The festival also draws thousands of film-industry types from Los Angeles and New York, many dressed in fashionable winter gear, sucking down lattes and barking into cell phones. Locals have a nickname for them: PIBs, or People in Black. It's not a compliment.
I moved to Park City during the festival, by coincidence, in January 1994. (I lived there for a few months before moving to Salt Lake City.) The first Sundance film I ever saw was "Suture," an arty conceit about two brothers, one white and one black, who somehow get constantly mistaken for one another. Shot in black and white, it was baffling and pretentious, but afterward the director and cast got up and took questions. I was hooked.
My Sundance fascination was cemented at the next year's festival, which featured "Crumb," "Muriel's Wedding" and Danny Boyle's "Shallow Grave." I remember seeing an unknown, floppy-haired Ed Burns making the rounds of Park City with his debut film, "The Brothers McMullen." By the end of that week, when the movie won the top jury award, you knew his life had changed forever.
Soon I was inviting friends to Utah for the festival, camping out overnight for tickets and sitting through as many as four films a day. My buddy Will and I kept a list of the celebrities we'd seen and took great pleasure in our fleeting little encounters with B- and C-list actors. Look -- it's Parker Posey! We were too cool to ask for autographs from these people, but not cool enough to ignore them.
I chatted up William H. Macy in a theater bathroom about the film I'd just seen him in, sat directly behind Sandra Bullock and resisted the urge to tap her on the shoulder -- I had a crush on her at the time -- during the screening of a short film she directed, and had an intimate, wide-ranging conversation with actor-director Tim Robbins, the full transcript of which is reproduced here:
Me: "Dead Man Walking" was a great film.
Robbins: Thank you.
After seeing David Lynch's inscrutable "Lost Highway," Will and I cornered co-star Bill Pullman at a party and, unsolicited, offered our interpretation of the film. When we finished, Pullman just gave us a tolerant smile. "Well, that says more about you than it does about me," he said.
For us, Sundance offered the thrill of being among the first to see the debut of a major talent, or a movie you just knew was going to be big. In 1996, Will and I were turned away from a screening of Alexander Payne's "Citizen Ruth" (we had arrived late) and after much grumbling, settled on a consolation choice: a little-hyped Australian film about a troubled pianist.
It turned out to be the world premiere of eventual best picture nominee "Shine," which drew a standing ovation and the wrath of Miramax chief Harvey Weinstein, who went ballistic later that night in a Park City restaurant after losing out on the distribution rights.
Three years later, we got a similar rush from "The Blair Witch Project," the fake-documentary horror flick that swept through Sundance like a virus. It seemed so frighteningly real at the time that when the three actors walked out onstage after the credits, we all were genuinely relieved to see them alive.
Over the years I watched Sundance grow from a cultish event for edgy filmmakers and hardcore film buffs into a frenzied happening full of glitzy premieres, corporate bashes and a crush of rubberneckers -- me included! -- hoping for a glimpse of someone famous. As a result, parties became ridiculously hard to get into. One bouncer, surveying the desperate throng outside his door, shouted, "Nobody is getting in unless you're famous, and I don't recognize any of you!"
As I got older and got married, my appetite for Sundance's excesses waned. My wife didn't share my Sundance obsession, which became a problem when January came around and I'd disappear to Park City for a week. I stopped trying to crash the parties. I no longer kept lists of celebrities I'd spotted. Paris Hilton showed up, and I didn't even look for her.
But I never stopped going to Sundance movies. I discovered a new appreciation for the power of documentaries such as "God Grew Tired of Us," Christopher Quinn's powerful 2006 film about three Sudanese "Lost Boys" making new lives in America. After the credits, Quinn invited two of the young African men onstage to a standing ovation. Following the Q&A, the audience mobbed the soft-spoken pair as if they were rock stars.
As a journalist, I also found myself writing more about the festival. I spent half an hour beside an indoor hotel pool, choking on chlorine fumes and interviewing former "Friend" Matthew Perry about his lead role in Craig Lucas' "Birds of America" (which went straight to DVD). Things were going fine until I told Perry I had seen him several years earlier on a flight from Salt Lake to Los Angeles. What brought him to Utah? I asked, innocently. Stony silence. End of interview. Whatever he was doing there, he didn't want to talk about it.
I knew Sundance had really gotten out of hand last year when I covered a celebrity poker tournament -- I'm still not sure what it had to do with movies -- whose organizers promised some big-name players: Matt Damon, George Clooney and NBA great Michael Jordan.
When the event finally got under way, those A-listers were nowhere to be found. Instead, spectators were treated to Daniel Baldwin, ex-NBA player John Salley and Kato Kaelin. Yes, O.J.'s Kato Kaelin. And those were the most famous names at the table.
I'm not at Sundance this year, so I haven't spotted Robert DeNiro, Demi Moore or Mike Tyson (he's the subject of a documentary) -- all of whom were in Park City last weekend. Yeah, I miss the carnival atmosphere, the oddball celeb sightings (hey, isn't that Ralph Nader?) and the onscreen diet of twisted sex, hipster irony and low production values.
I'm also missing the much-hyped "I Love You Philip Morris," a gay-themed drama starring Jim Carrey, and "Grace," a buzz-worthy horror film about the perils of breastfeeding. But that's OK. I'm not freezing on a Park City sidewalk. I have great memories.
So, I'll just be patient and see the movies next fall when they hit theaters, like everyone else.
E-mail to a friend

All About Sundance Film Festival • Movies