(CNN) -- The actors of "Slumdog Millionaire" won outstanding performance by a cast in a motion picture, and Heath Ledger posthumously won best supporting male actor at the 15th annual Screen Actors Guild Awards on Sunday.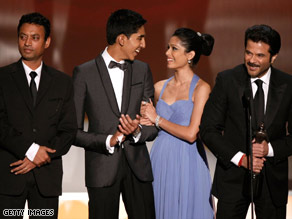 "Slumdog Millionaire" actors Irrfan Khan, Dev Patel, Freida Pinto and Anil Kapoor accept the film-cast prize.
"It was overwhelming enough to be nominated, but to win this is unbelievable," said "Slumdog" actor Anil Kapoor of the award given to him and his cast mates at Los Angeles' Shrine Exposition Center.
The cast's win comes two weeks after the modestly budgeted movie, about a poverty-raised orphan in Mumbai who goes on the Indian version of "Who Wants to Be a Millionaire," won the Golden Globe award for best drama. The film has been nominated for 10 Oscars, including for best picture.
"The Curious Case of Benjamin Button," the big name when the Academy Award nominations were announced earlier this week, was shut out at the SAG Awards. The movie leads all films with 13 Oscar nods.
Ledger, who was 28 when he died just more than a year ago of an accidental prescription drug overdose, won his award for his role in "The Dark Knight," 2008's box-office king.
Ledger's performance was widely praised, and he won the Golden Globe for best supporting actor two weeks ago. He also is considered the front-runner for an Academy Award for supporting actor.

Watch a roundup of SAG winners »
Actor Gary Oldman accepted the SAG award for his friend. "He was an extraordinary young man with an extra ordinary talent, and it is wonderful that you have acknowledged that and honored that talent tonight," Oldman said.
Josh Brolin, one of four actors who lost to Ledger on Sunday night, compared the SAG awards to "a big campfire we're all showing up for."
"It's not a competition," Brolin said. "We're just happy to party together."
Meryl Streep echoed Brolin's words when she accepted for best leading actress in a movie for her role in "Doubt."
"Can I just say there's no such thing as the best actress," Streep said.
Streep was dressed as if she might ready for Brolin's campfire, wearing black pants, a black blouse and no jewelry except for earrings.
"I didn't even buy a dress," she said.

Watch SAG awards fashion »
Sean Penn, chosen as best leading male actor in a movie for "Milk," told the four actors he won against that he wept when he watched their work. "You're stunning," Penn said.
Penn's took a brief political turn when spoke about "Milk," the story of a gay San Francisco politician assassinated in 1978.
"This is a story about equal rights for all human beings," Penn said. iReport.com: Share your thoughts on the Oscar race
Kate Winslet's win as best supporting actress for her performance as Hanna Schmitz in "The Reader" could help her best actress Oscar nomination for the same role.

Watch an overwhelmed Winslet backstage »
Winslet was nominated for SAG's lead actress in a movie for "Revolutionary Road," but lost to Streep.
The SAG Awards are watched closely by Oscar fans, but they're not always a guarantee of Oscar gold. Last year, for example, Julie Christie won the SAG's outstanding lead actress for her work in "Away From Her." At the Academy Awards, she was beaten by Marion Cotillard, who played French singer Edith Piaf in "La Vie en Rose."
Most of the SAG trophies handed out during the first half of Sunday night's show were for TV categories.
Paul Giamatti and Laura Linney won for their roles in HBO's "John Adams." Giamatti got the trophy for best male actor in a TV movie or miniseries for his role as President John Adams, while Linney won the female actor award for her portrayal of first lady Abigail Adams.

Watch Linney say 'I've been very lucky' »
Veteran actress Sally Field won her first SAG Actor trophy after seven nomination over the past 14 years.
Field won outstanding performance by a female actor in a drama series for her work on "Brothers & Sisters."
Hugh Laurie won best male actor in a TV drama series for a second time for his work in "House." He won the same trophy two years ago.
"I actually had $100 on James Spader," Laurie said. "This is just not my night." Spader was also up for the best actor award.
The TV drama ensemble award was given to the cast of AMC's "Mad Men."
The evening began with NBC's "30 Rock" sweeping best actor and ensemble trophies.
Tina Fey won the outstanding performance by a female actor in a comedy series category, while Alec Baldwin won the male honor for his "30 Rock" role.
The 10 actors in the "30 Rock" cast also captured the trophy for outstanding performance by an ensemble in a comedy series.
The 16 SAG categories include honors for both television and film actors.
James Earl Jones was given SAG's 45th Life Achievement Award.
"Whatever medium he tackles, he consistently delivers," actor Forest Whitaker said.
Jones' trademark deep voice has been heard in movies as "the most evil voice in the entire universe... and the voice of God," Whitaker said.
Jones used his acceptance speech to salute the late actor Paul Newman.

"Somebody down here likes you," Jones said to Newman. In 1956, Newman starred in "Somebody Up There Likes Me."
The 15th annual Screen Actors Guild Awards aired on TNT and TBS. Both TNT and TBS are units of Time Warner, the parent company of CNN.
E-mail to a friend

All About Brad Pitt • Academy Awards • Kyra Sedgwick • Kate Winslet