LOS ANGELES, California (CNN) -- Sean Penn says the best person to play Harvey Milk would have been the pioneering gay politician himself.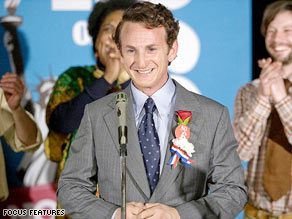 Oscar winner Sean Penn has been nominated this year for his role as a pioneering gay politician in "Milk."
"He was such a charismatic person. I've often said I thought the perfect Hollywood casting to play Harvey Milk is Harvey Milk," the Oscar-winning actor said Sunday at the Screen Actors Guild Awards. "It was helpful that we had a kind of library of film and recordings of him."
Penn, who won the SAG Award for best lead actor, also has a strong possibility of taking home his second Oscar on February 22.
His competition includes "The Wrestler's" Mickey Rourke, who won the Golden Globe for best dramatic actor; "Frost/Nixon's" Frank Langella; "The Curious Case of Benjamin Button's" Brad Pitt; and "The Visitor's" Richard Jenkins.
"Milk," directed by fellow Oscar nominee Gus Van Sant, is a biopic about the San Francisco, California, official, who was the first openly gay man to be elected to major public office. In November 1978, he and San Francisco Mayor George Moscone were assassinated by Dan White, who recently had resigned from the Board of Supervisors, the council on which Milk also served.
Though pleased with his victory and Oscar nomination, Penn said he's even happier that the film gains a new life from the honors.

Watch Penn's speech at the SAG Awards »
"If ... 'Milk' hadn't been nominated for best picture and all of the other things that came out of it, I think the movie never would have been distributed wide," he said. "Now it will have a chance to be seen by people."

And how does the Oscar winner for "Mystic River" (2003) rate his chances at this year's Academy Awards? He brushes the question aside.
"This year is really unusual because I genuinely think that all the people [nominated] were more than good; they were truly great," he said. "So there's no way any of us know who's going to win."
E-mail to a friend

All About Sean Penn • Academy Awards