(CNN) -- Robin Williams' heart surgery "went extremely well" and he is expected to make a full recovery in eight weeks, according to his surgeon.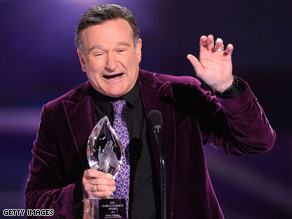 Robin Williams underwent heart surgery March 13. He's doing well, says his surgeon.
Williams' publicist quoted the surgeon in a news release Monday that revealed the procedure was done on March 13 at the Cleveland Clinic in Ohio.
"His heart is strong and he will have normal heart function in the coming weeks with no limitations on what he'll be able to do," said Dr. Marc Gillinov, a cardiothoracic surgeon at the Cleveland Clinic. "A couple of hours after surgery, he was entertaining the medical team and making us all laugh."
The 57-year-old comedian postponed his one-man-show tour and entered a Miami, Florida, hospital for testing earlier this month after suffering shortness of breath.
Doctors then told Williams he needed an aortic valve replacement, his publicist said.
Williams is expected to resume his 80-city "Weapons of Self-Destruction" tour in the fall, the publicist said.
Don't Miss
"I got some great new material for the tour and can't wait to get back on the road," Williams said in Monday's news release. "I'm thinking the next leg of the tour will be 'Weapons of Self-Destruction and Reconstruction!' "
His Web site says the shows "highlight Williams' trademark free associations and riffs on social and political absurdities."

This isn't the first time Williams has coped with health problems. In August 2006, the comedian and actor checked himself into an alcohol rehabilitation center.
"After 20 years of sobriety, Robin Williams found himself drinking again and has decided to take proactive measures to deal with this for his own well-being and the well-being of his family," his publicist said at the time.
E-mail to a friend

All About Robin Williams