(CNN) -- Academy Award-winning composer Maurice Jarre, who scored movies including "Doctor Zhivago" and "Lawrence of Arabia" among others, died Sunday from cancer in Los Angeles. He was 84.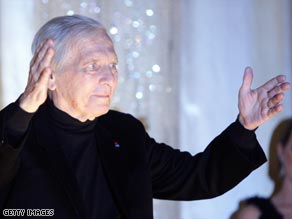 Movie composer Maurice Jarre pictured at the Berlin International Film Festival last month.
Jarre enjoyed an illustrious career, working with Hollywood directing legends including John Huston, Alfred Hitchcock and, most notably, David Lean.
Fellow French composer Alexandre Desplat, who interviewed Jarre for The Screening Room at the Berlin International Film Festival last month, told CNN Monday: "Maurice was an immense artist, an incredible symphonist, a magician of the melody and a benevolent human being."

Watch tribute to Maurice Jarre »
Jarre won Oscars in 1963 and 1966 for his collaborations on the Lean movies "Lawrence of Arabia" and "Doctor Zhivago" respectively.
He then mustered a further six Oscar nominations but his third award came once again through a further collaboration with Lean on " A Passage to India" in 1984.
He then swapped orchestral composition to become a pioneer of electronic scoring, working on the music for, among others, "Ghost," "Witness," "Dead Poet's Society" and "Fatal Attraction."
At the same time his son Jean-Michel Jarre became one of the world's best known electronic musicians with global hits such as "Oxygene" and huge outdoor concerts.
His final movie composition was for the 2000 film "I Dreamed of Africa."
Jarre's career included symphonies, ballet and theatre but it was for his 150 film scores that he was presented with an honorary Golden Bear at the Berlin International Film Festival last month - almost half a century after producer Sam Spiegel hired him to work on "Lawrence of Arabia."
Festival director Dieter Kosslick said in a statement late last year: "Film composers often are in the shadows of great directors and acting stars. It's different with Maurice Jarre; the music of 'Doctor Zhivago,' like much of his work, is world-famous and remains unforgotten in the history of cinema."

Speaking in Berlin to double-Oscar nominee Desplat -- who himself scored "The Curious Case of Benjamin Button" and "The Queen" -- Jarre said: "I never really had a 'bust-up' with a good director. A good director will always find an intellectual understanding. And that's what was great - I had an opportunity with all these people. I don't think I can say that I ever worked with a bad director."
But Jarre also said that directing legends of the rank of Huston and Hitchock had disappeared and no longer existed, adding: "The only problem is now, there is more and more bad music that goes 'dang dang dang dang dang...' So...it's better to turn off the music, and listen to a concert of Mozart."
E-mail to a friend

Senior producer Neil Curry and associate producer Lidz-Ama Appiah contributed to this report.