By Elham Khatami
CNN





(CNN) -- An ex-convict, a mobster, a serial killer -- after more than two decades in the movie business, Ray Liotta is still perhaps best known for these "bad guy" roles in such films as "Something Wild" and "GoodFellas."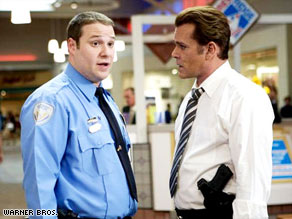 Ray Liotta (right) co-stars with Seth Rogen in "Observe and Report," which opened Friday.
But in his most recent film, "Observe and Report" -- a dark comedy co-starring Seth Rogen as a bipolar mall security guard and Anna Faris as the vapid make-up counter clerk he's in love with -- Liotta inches away from his edgy persona to play a detective investigating a flashing incident at the mall.
"A flasher keeps flashing people at the mall, so they call in the 'real police,' which is me," Liotta told the Columbus Dispatch. "The last thing I want to do is investigate."
The film, which opened in theaters Friday and has earned rave reviews by critics, is not Liotta's first comedic undertaking. The 54-year-old actor also starred in 2007's "Wild Hogs," a comedy co-starring Tim Allen and John Travolta about a group of middle-aged suburban men who decide to become bikers. The film was one of that year's surprise hits, taking in more than $150 million at the domestic box office.

See some of the highlights of Liotta's career »
Liotta first made his mark on the film industry by playing a psychotic ex-husband determined to win back his ex-wife in "Something Wild." The role propelled Liotta to fame and earned him a Golden Globe nomination for best supporting actor.
From there, Liotta starred as mobster Henry Hill in the Martin Scorsese classic "Goodfellas" (1990), working alongside renowned actors Robert De Niro and Joe Pesci.
"Edgy guys stand out in people's minds," Liotta said of his famous "bad guy" roles, according to the Dispatch.
But, to avoid being typecast as the "bad guy" forever, Liotta decided to break from the mold in his next role as a caring father in the heartwarming film "Corrina, Corrina" (1994), co-starring Whoopi Goldberg.
Liotta soon proved that acting was not his only forte. He formed his own production company in 2002 and made his debut as a producer on the film "Narc," in which he also starred as a corrupt cop.

He's also earned plaudits for his television work. In 2004, Liotta starred in an episode of the hit NBC drama, "ER," winning an Emmy for his guest appearance. The actor got his start on daytime TV, playing the character Joey Perrini on the soap "Another World."
With several films currently in production, Liotta shows no signs of stopping. The actor told the Dispatch that he hopes to try his hand at romance in the future, joking that he'd like to "kiss the girl without having to choke her first."
E-mail to a friend

CNN's David Daniel contributed to this story.