By Todd Leopold
CNN





(CNN) -- Michael Caine describes himself as "retired from the movies."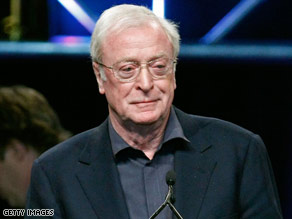 Michael Caine says he waits for "the offer I can't refuse": a top-notch script.
Then why do we keep seeing him in so many films, including Christopher Nolan's Batman movies (in which he plays Alfred the butler)?
Well, he says in that familiar Cockney accent, he finds it hard to turn down a good script.
"I do very few movies now, and I wait for ... what I call to myself 'the offer I can't refuse.' It doesn't have anything to do with money, it's just a script I can't refuse," he said from New York. If it's that good, he adds, he lets it "interrupt my life."
Sir Michael, 75, used to be famous for always working, whether the script was good or wanting. Along with such films as "Hannah and Her Sisters" -- which won him one of his two Oscars -- "Sleuth" and "Educating Rita," there was "The Island," "Blame It on Rio" and "Jaws: The Revenge."
Not that he minded. Regarding "Jaws: The Revenge," he once wrote, "I have never seen it, but by all accounts it is terrible. However, I have seen the house that it built, and it is terrific."
Caine's latest film is "Is Anybody There?", a moving character study of a curmudgeonly magician who's forced to move into a struggling nursing home. While there, he strikes up an unlikely friendship with the owners' 10-year-old son, who's fascinated with ghosts and death.
CNN.com talked to Caine about "Is Anybody There?", acting opposite children, his relationship with "Dark Knight" director Christopher Nolan and what's next for his retirement.
CNN: How did this script [by Peter Harness] cross your transom?
Michael Caine: It was brought to me by a friend of mine named David Heyman, who makes the Harry Potter movies. ...
When I was reading it, I was roaring with laughter, and as I got through it and started to get toward the end, I suddenly found myself crying. I'd laughed at a lot of scripts in my time, but I've never cried reading a script. And I thought, bloody hell, if that can do that to me, sitting in an empty office on my own, what can it do if we can get it up there on the screen?
I do very few movies now, and I wait for a script -- what I call to myself "the offer I can't refuse." It doesn't have anything to do with money. It's just a script I can't refuse. ... I thought ["Anybody"] was a wonderful project for me.
CNN: There's an old saying about acting with children and animals. Did you have any nervousness about acting with ...
Caine: No, no, no, no, no. What happens is, is ... if you happen to work with children who don't really know how to do it, you keep doing the take until the child gets it right, and when the child gets it right, they print it whether you've got it right or not. So eventually the child who couldn't really do it comes out looking really great, and you who could do it got bored with doing it over and over again, and you come out looking like a dope!
With me, I stay in character with children, animals -- if you stay true to yourself, and real, no one can harm you. I was very fortunate with [child actor] Bill Milner ... because he is an absolutely natural movie actor. ... He is just a wonderful little boy. ... So it was very easy to work with him.
CNN: Do you find it liberating now that you can pick out the scripts that you want? There was a long time when you described yourself as a "working actor" and would do movies constantly.
Caine: I always used to do a movie because I thought no one was ever going to offer me another one. But for many years now, I just do exactly what I want to do. ...
This business retires you. Eventually, nothing comes. And that could be happening to me -- I could be retiring, or tomorrow morning the postman will come and I could have a great script.
CNN: But there are the Batman films --
Caine: But you don't know whether there's ever going to be another Batman. Christopher Nolan, at the moment, he's making "Inception," which is a very big movie, and it hasn't even started. So you're two years away at least from Batman, and nobody knows except Christopher what it's going to be.
CNN: Do you like working with Christopher Nolan? You made "The Prestige" with him along with the Batman films.
Caine: I've done three pictures with him, and I'm also in "Inception." ... I'm just there because we're friends. I'm a sort of good-luck charm. I only work two days. I just turn up in a little tiny part. Just so I'm in it. Yeah, I'm his good-luck charm (laughs).
CNN: In "The Prestige," you played a manager of magicians, and in this movie you play a former magician. Do you have a passion for magic yourself, or was this just a fluke?
Caine: No, no, it's just a fluke thing. ... Magicians fascinate everybody because they're so clever. ...
I don't even have the hands for card tricks. I have hands like the Boston Strangler.
CNN: You did a pretty good job with the sleight of hand --
Caine: Well, that's movies. You only've got to get it right once. You see me doing the sleight of hand there, I probably did it 99 times and screwed up. But [you] get it right once, and they print it, and that's it -- you look good.
CNN: Are there any kinds of roles you wish someone would drop off on your doorstep?
Caine: Well, I just made another movie called "Harry Brown" in which I play a very old guy, and in both ["Anybody" and "Brown"] when I went to makeup I always felt like I wasn't being made up, I was being made down. I would go in looking like hell as myself, and they would say, "That's not bad enough." And then they'd start making me look worse. I'd like a part where they'd make me look younger and better.
I always remember a wonderful film, John Huston's film "The Asphalt Jungle." Louis Calhern played a very powerful older man, and his mistress was Marilyn Monroe. I felt, why can't we do a remake of that? I'd do that. (laughs)
CNN: You don't shy away from playing old. Some actors would rather not admit to themselves ...
Caine: Yeah, well, I was a repertory actor, which means one play a week, so I've played everything in my time. So I don't worry about that. I have an actor's point of view: I play old people; I'm not old myself.
CNN: Do you mind waiting for scripts?
Caine: Oh, no. I don't sit around waiting for scripts. I regard myself as retired from the movies and having a great time doing many many other things. And then these scripts come in, and they're so good they interrupt my life. And that's what it is. Because I can't just resist it. I really am an old actor, and I love doing it. It's like Pavlov's dogs: When the whistle blows, their mouth waters.
E-mail to a friend

All About Michael Caine • Christopher Nolan