By Todd Leopold
CNN





(CNN) -- As the 2009 Cannes Film Festival draws near, filmmakers who have made the event's short list hope that their films will be blessed with that hard-to-earn Cannes buzz, which could lead to awards and financial success.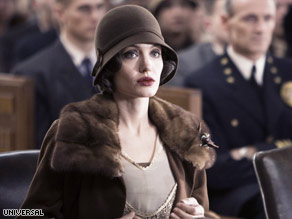 "Changeling," which played at Cannes last year, earned generally positive reviews but did poorly at the box office.
But the story doesn't always have a Hollywood ending.
There were several big names in last year's lineup. "Changeling" was directed by Clint Eastwood and starred Angelina Jolie. "Blindness," directed by "City of God's" Fernando Meirelles, starred Julianne Moore and Mark Ruffalo. "Synecdoche, New York," the first film directed by "Adaptation" and "Eternal Sunshine of the Spotless Mind" screenwriter Charlie Kaufman, starred Oscar winner Philip Seymour Hoffman.
Also hot was "Che," Steven Soderbergh's four-hour biography of Marxist revolutionary Che Guevara.
All came with high expectations of critical and (producers hoped) financial success. "Blindness" was even selected as Cannes' opening film.
But though there were some good reviews, none of the works received the kind of blanket acclaim that gets moviegoers talking and exhibitors lining up for bookings. "Blindness" made out the worst; the critic for The Times of London called it "the most miserable opening to an international festival I've ever seen."

See photos from last year's big profile films »
As a consequence, all struggled, to varying degrees, at the box office. ("Changeling" made out best, earning $35.7 million in North America and nabbing Jolie an Oscar nomination.)
That's not always the case at Cannes, considered one the world's leading film festivals for more than five decades. Some films and filmmakers emerge from the festival on a fast track to big things.

Watch what some of this year's highlights could be »
The success stories are many.
"Pulp Fiction's" 1994 win of the Palme d'Or -- Cannes' highest honor -- launched Quentin Tarantino, previously known for the mildly successful indie film "Reservoir Dogs," into the big leagues. The film made more than $100 million at the North American box office, was nominated for seven Oscars and revived John Travolta's career.
"Sex, lies and videotape," which won in 1989, is credited with boosting director Steven Soderbergh, studio Miramax Films and independent film in general, according to Peter Biskind's history of '90s indie film, "Down and Dirty Pictures."
"Marty" (1955), "La Dolce Vita" (1960), "Blow-Up" (1967), "MASH" (1970), "Taxi Driver" (1976), "Apocalypse Now" (1979) and "Fahrenheit 9/11" (2004) all used victory at Cannes as a springboard to great critical or financial success, and in many cases both. And though 2007's "No Country for Old Men" didn't win the festival's big prize, the buzz surrounding the film after its Cannes showing was instrumental in carrying it to a best picture win at the Oscars.
Last year's winner of the Palme d'Or, "The Class," was mildly helped by its triumph. The French film about a literature teacher in inner-city Paris received glowing reviews and several other wins -- including an Independent Spirit Award for best foreign-language film -- though it came up short at the Oscars and at the Cesars (France's Oscar equivalent), taking home only a writing award at the latter.
It earned about $3.7 million at the North American box office and about $27 million worldwide, a decent performance for a low-budget film, if no blockbuster.
Cannes also shows films out of competition, often an attempt to raise visibility -- though, as in the case of "The Da Vinci Code" in 2006, the high profile can backfire.
In the case of "Da Vinci," audience members laughed at some of the film's dialogue and ridiculed its melodrama. Director Ron Howard and star Tom Hanks got the last laugh, though: "Da Vinci" was a huge financial success, earning more than $750 million worldwide. (The film's follow-up, "Angels & Demons," opens Friday -- and not at Cannes.)
Last year's out-of-competition films included "Indiana Jones and the Kingdom of the Crystal Skull," which had a successful box office run but was quickly forgotten by the end of the summer movie season; "Kung Fu Panda," which did well among both audiences and critics; and Woody Allen's "Vicky Cristina Barcelona," for which Penelope Cruz won an Oscar for best supporting actress.

If 2008 was a generally disappointing year for English-language films at Cannes, foreign-language films made out well. Besides "The Class," the Israeli film "Waltz with Bashir" received plaudits -- it was also eventually nominated for an Oscar -- as did the Italian films "Gomorrah" and "Il Divo."
The 2009 festival begins Wednesday night in Cannes, France.
E-mail to a friend

All About Cannes Film Festival • Movies