By Mairi Mackay
CNN





CANNES, France (CNN) -- Quentin Tarantino didn't give himself any breaks while making his latest film "Inglourious Basterds," which premiered at Cannes this week.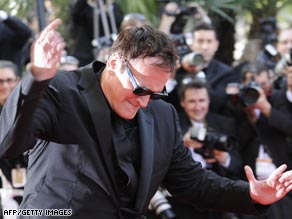 Idiosyncratic director, Quentin Tarantino doing the famous dance from his Palme D'Or winner "Pulp Fiction" on the "Inglourious Basterds" red carpet.
The 46 year-old director transformed the WWII wartime-thriller-cum-spaghetti-western from script to finished product in just eight months, he told CNN's The Screening Room, so that it would be ready to show at the prestigious film festival.
He only just managed to deliver the "wet print," straight from the lab, to festival organizers in time. Tarantino -- who is famous for sometimes taking years over projects -- says it wasn't easy, but subjected himself to the same discipline necessary to get his 1992 sassy and hyper-violent debut "Reservoir Dogs" completed.
"We worked at a really accelerated pace," Tarantino told CNN at Cannes, where the feature enjoyed its world premiere Wednesday. "Digging deep -- and not just saying 'Manana, Manana' ... saying 'No! We're gonna get it done in three days, one way or the other we're gonna get it done.'"
"I think there's an energy that you can feel on the screen; that you can feel us reaching to do that."

Watch Tarantino on "Inglourious Basterds" »
So far "Inglourious Basterds" has received mixed reviews. Critic Peter Bradshaw of UK newspaper The Guardian was remorseless, describing the film as a "cod-WW2 schlocker" and calling out Brad Pitt for "the worst performance of his career."
Todd McCarthy writing in film industry bible, Variety points out that the film "only fully finds its tonal footing about halfway through" but on the plus side calls it a "completely distinctive piece of American pop art." Tell us what you think. Has Tarantino still got what it takes? Or has he failed to live up to his early promise? Tell us below in the SoundOff box
Cannes has been good to Tarantino in the past: "Pulp Fiction," his follow-up to "Reservoir Dogs," won the Palme D'Or in 1994. But Tarantino received a critical mauling for 2007 Palme D'Or-nominated "Death Proof," one half of the "Grindhouse" double-bill he filmed with long-time buddy Robert Rodriguez.
"Inglourious Basterds," Tarantino's first film since "Death Proof," has been one of the most keenly anticipated premieres at this year's Cannes.

In pictures: From "Dogs" to "Basterds:" Tarantino's movie career »
Brad Pitt stars as Lt. Aldo Raine, leading an international ensemble cast including Diane Kruger, Mike Myers, Michael Fassbender, Daniel Bruhl in what Tarantino has described as his "bunch of guys on a mission movie."

In pictures: Pitt, Jolie, Tarantino at the premiere »
Set in WW2, it follows a renegade band of Jewish-American solders known as "The Basterds," who are dropped behind enemy lines to brutally kill and scalp German soldiers.
Much of the film is in French and German, which Tarantino felt was necessary to give the film authenticity. The complexities of shooting in a number of different languages and getting the subtitling right was tricky but, says Tarantino, "I think we pulled it off really well."
The title inspired by Enzo Castellari's obscure 1978 feature, "Inglorious Bastards," but Tarantino has repeatedly refused to reveal why the story behind the strange spelling, saying it's better that it remains a cinematic mystery.

Watch stars Brad Pitt and Diane Kruger talking about the film »
Rather "Basterds" contains the kind of pithy dialogue, high proportion of blood and bullets and obscure yet impressive soundtrack that is typical of Tarantino's style. And the self-confessed movie geek has peppered the narrative with cinematic references, with much of the action centering on a cinema.
True to form, the self-taught ex-video shop assistant has been beavering away furiously to create a movie that he hopes surprises and confounds audiences.
"Part of my thing is throwing twists and turns in the film. You're watching the movie and you don't quite know where it's going," he explains.
"And, all of a sudden something happens that makes it about this, and something happens that turns the corner and changes everything.
The Screening Room
Bringing you the inside track on all aspects of the movie business around the globe.


"I just like that kind of storytelling. You know? I think it's engaging as opposed to images just glazing over you. As a viewer, you're engaged in what's going on -- [you are] in the throes of the movie."
Tarantino has wanted to make a war film for a long time and has been working on the script for the best part of a decade. He has, he says, in some ways enjoyed the speculation that has dogged the film since his hand-scrawled, mis-spelled script found its way onto the internet last year, just days after he finished it.
"One of the things that's kind of fun about it is -- and I was kinda getting a kick out of it as I was editing the movie -- is I'm hearing all this speculation about 'It's gonna be like this. It's gonna be like that.' And I go 'It's not about any of those things!'"
In spite of what some critics might have to say, and whatever the decision of Palme D'Or jury, Tarantino is in his element at Cannes, having arrived a week before his own premiere to soak up all the films the festival has to offer.

"What I think is so wonderful about Cannes is the fact that it's almost like a cinematic Olympics," he says.
"All the great filmmakers on planet Earth ... if you've made a movie and you can get it done in time for Cannes, you can get it accepted. And then all of us here, showing our movies against each other; critics arguing; liking; debating; all that stuff. It's just ... there's not place like it."
E-mail to a friend

Tom Foster contributed to this article.