By Denise Quan
CNN





LOS ANGELES, California (CNN) -- When director Antoine Fuqua rolls into a community to shoot a movie, he becomes part of that community.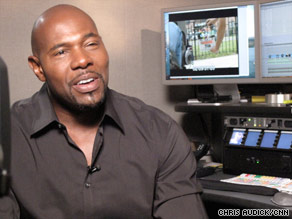 Filmmaker Antoine Fuqua began a program to foster young moviemakers in poor communities.
This isn't the case of a Hollywood filmmaker cherry-picking glamorous locations like Beverly Hills or Manhattan. Fuqua's interests lie a few miles away, in the grittier section of town.
For his 2001 blockbuster, "Training Day," he took stars Denzel Washington and Ethan Hawke and shot in South-Central Los Angeles -- deep in the 'hood. And last year, the housing projects in Brooklyn's Brownsville district were key to his latest feature, "Brooklyn's Finest." Hawke stars once again, this time alongside Richard Gere, Don Cheadle and Wesley Snipes.
Although Fuqua carries himself with the confident ease of someone who enjoys a certain stature in the industry, he's at home in the projects. And he should be. He was raised in a Pittsburgh, Pennsylvania, public housing complex, and hasn't forgotten what it's like to dream about making it out of the ghetto.
Yet now that he's out, he wants back in.

Watch more about how Fuqua mentors young filmmakers »
During the filming of "Brooklyn's Finest," he initiated the non-profit Fuqua Film Program -- an intense, 12-week moviemaking course eligible to young adults from Brownsville, ages 16 to 20. Last year, three students got the chance to write, direct and edit their own short film. This year, he hopes to expand the program to 10 to 15 students.
Down the road, he's looking to bring the project to his native Pittsburgh, then roll out to other urban areas. After all, in Hollywood, it's all about who you know -- and Fuqua wants to give neighborhood kids the opportunity to know him.
The following is an edited version of an interview CNN did with Fuqua.
CNN: What was so compelling about the kids you chose to participate in the Fuqua Film Program?
'Black in America 2'
In July, Soledad O'Brien investigates what African-Americans are doing to confront the most challenging issues facing their communities. You'll meet people who are using groundbreaking solutions in innovative ways to transform the black experience.
Wednesday, 9 p.m. ET & Thursday, 8 p.m. ET

Antoine Fuqua: We selected three kids -- four kids, actually (one could not complete the program because he was sent to Juvenile Hall). ... The concept was to have them write an essay to find out which ones really had the passion for filmmaking.
Most of the applicants were 18, 19 years old. Some lost their parents when they were 13, 12, 10. A few were involved in gangs -- or someone in their family is involved in gangs. A young lady just wanted to find a way out of living in the projects, and she wanted to go to college. So it was a number of things I found compelling, but most of all, they all had a little bit of light and a little bit of hope in each letter.
CNN: When you handed the participants their video camera, you talked about "No excuses."
Fuqua: Right. "No excuses." Exactly. That concept came from my parents and my grandmother -- the idea that you can't make excuses for things you don't have. You just have to go get 'em. ... If they go after it -- as they did with the essays -- someone's going to hand you a tool and say, "Here you go. Now what?" And then it's up to you to prove that you have what it takes.
CNN: You've got the teens who are part of the program, and then you have a bunch of little kids (from the neighborhood) who were interested in what was going on, too -- the next generation.
Fuqua: (Laughs) The next generation, yeah. They kind of took over the director's chair. I was over directing the actors, and I happened to turn around, and I just saw all these kids all around my monitor, and I said, "Well, sit down, go ahead. Put the headsets on. You know, if you're going to be here, you can listen and hear what's going on." And they loved it. I'd see them smiling, and laughing, and every time I yelled, "Cut!" they were clapping. And then a few of them would yell, "Cut!" and "Action!"
I like to just go in there and say, "This is all happening in your neighborhood, these two, three hundred crew members -- black, white, every other color." You know, a crew is like a United Nations. It's an immediate opportunity to meet and greet people other than the ones you see every day in your community. We're there at four or five in the morning. We leave whenever we finish, which is normally in the middle of the night sometimes.
So they see that dedication and that work ethic, and they see how we all get along and how we all have to communicate. And somewhere, I believe, it affects their behavior and how they deal with their lives.
CNN: Did anybody do this for you?
Fuqua: I'm just like them. I come from the projects in Pittsburgh, Pennsylvania, in the Hill District, so I know what it feels like to walk into these concrete buildings (the housing projects) and think that's the world. My goal is to show them that's nothing -- that's a blip in the world. ...
Several people gave me opportunities. Mario Van Peebles was doing a little film in Pittsburgh and I was just a little kid running around, and I got to meet him. He was acting in it, and he was really nice and said hello to everybody. It wasn't a situation where they said, "Go away! You can't be part of this."
CNN: On the set of "Brooklyn's Finest," Denzel Washington spent time talking to the kids.
Fuqua: Yeah, Denzel was giving them the real talking. ... He's involved with the Boys and Girls Club, and he does a lot quietly -- people don't even know.
When I shot "Training Day," he was, "Absolutely you've got to shoot down there [in South-Central] -- where else you gonna shoot it?!" And I remember one day down on the set with Denzel, I was filming and I couldn't find him, and I looked up on the porch, and he was up there on the porch with all these older women, and they were cooking for him, and all the young kids were around, and he was just hanging out where all the people were. And that told me right away what kind of person he was.
I don't know how many times he was in his trailer. He was always with the kids -- him and Ethan (Hawke, his co-star) -- hanging out with everyone. And that influenced me a lot because I realized by watching the effect they had on these kids.

CNN: What's been the most gratifying part of being involved in the community, and picking the kids for the Fuqua Film Program?
Fuqua: I'm satisfied when I hear them talking about wanting to go to Europe, or curious of who Caravaggio is -- the painter -- or tell me they saw a Kurosawa film last night, and they never saw him before. You know, it's like the world is starting to open up -- their eyes are opening up. Maybe one of those kids is going to be the next Steven Spielberg, or the next Denzel, or who knows -- the next Antoine.
E-mail to a friend