By Alan Duke
CNN





LOS ANGELES, California (CNN) -- Quentin Tarantino's new movie "Inglourious Basterds" comes with a film inside the film, a Nazi propaganda movie promoting the glory of Germany's Third Reich.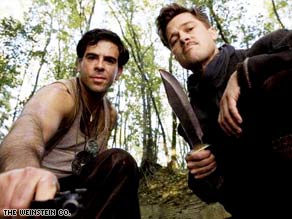 Eli Roth and Brad Pitt star in "Inglourious Basterds." Roth also directed a short film within the film.
Tarantino said he's not worried people might be offended by the short film, which is being promoted by a trailer that is now a viral video on the Internet.
"You would have to have absolutely, positively no sense of humor at all not to get it," Tarantino said.
"Stolz der Nation" -- which translates into English as "Nation's Pride" -- was produced true to the style of Joseph Goebbels, Adolf Hitler's propaganda minister, but by Eli Roth, the director-actor who also plays one of Tarantino's "Basterds" known as the "Bear Jew."
"There was something that we enjoyed immensely about the idea of a Jew making a Nazi propaganda movie," Tarantino said.

Watch Tarantino talk about how "Nation's Pride" was made »
Roth, well known for his R-rated horror flicks such as "Hostel," said while growing up as a Jewish boy in Boston, Massachusetts, he never dreamed he would make a Nazi propaganda film.
"After 'Hostel 2,' I thought 'God, what can I make that's more offensive and upsetting than this film,' but somehow I did it with 'Nation's Pride,'" Roth said.
Roth viewed the black-and-white film as a character in "Inglourious Basterds," a World War II fairy tale about a squad of Jewish-American soldiers who infiltrate behind enemy lines to terrorize the German army.
Their plot to assassinate Hitler focuses on a small Paris, France, theater where Germany's leadership is gathered for the premiere of Goebbels' movie. The black-and-white film glorifies a fictional war hero played by Daniel Bruhl "and the glory of the swastika and the power of Germany," Roth said.
"His courage was bound by duty. His legend was baptized in blood. His name will be crowned in glory," the trailer's narrator says as Pvt. Fredrick Zoller picks off dozens of American soldiers from a sniper's nest.
"Being Jewish, I wanted to make it a real propaganda film," Roth said. "I was, like, I want to show what these movies are like. I don't want to do a sanitized version."
Using just 20 extras and five stuntmen, Roth shot the five-and-a-half-minute film in three days in Gorlitz, Germany, the same town where "The Reader" was filmed a year earlier, he said.
"The whole time we were shooting, we were, like, not only does this have to impress Quentin, this has got to impress the Fuhrer," he said. "Hitler has to see this and go 'This is your finest work.'"
"The German crew were going 'God, normally, we can't do this. This is so illegal.' And I was, like, 'this is what they did,'" he said. "This is what Joseph Goebbels would have done, and this has got to be honest and accurate."

While only parts of "Nation's Pride" are seen in "Inglourious Basterds," Roth said Tarantino will likely include the complete film as a bonus on the DVD.
"Inglourious Basterds," starring Brad Pitt, opens across the United States on August 21.
E-mail to a friend