By Grace Wong
For CNN





LONDON, England (CNN) -- Love them or hate them, when it comes to remakes, it seems the only thing people can agree on is that they more often than not stir controversy.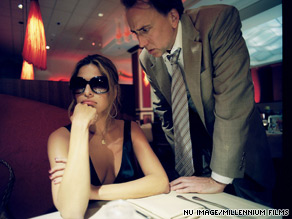 Nicolas Cage and Eva Mendes star in Werner Herzog's reimagining of "Bad Lieutenant."
The fall festival season has seen its own showdown of late over "Bad Lieutenant Port of Call: New Orleans," Werner Herzog's remake of the Abel Ferrara original. The Herzog film premiered at the Venice Film Festival earlier this month and also played at Toronto.
Ferrara hasn't disguised his distaste over the re-imagining of his 1992 film. "He can die in hell," Ferrara told Filmmaker Magazine last year when he learned that Herzog was going to remake the film. He went on: "I hate these people -- they suck."
Besides causing directors to fall out, remakes can also infuriate viewers, especially when they fall short of the hype -- "Psycho" and "Planet of the Apes" come to mind. What are the best and worst movie remakes? Tell us the films ripe for a makeover -- and those that should never be touched.
In the case of "Bad Lieutenant," Ferrara's original featured Harvey Keitel as a jaded and corrupt New York City cop who is addled by drugs, engages in sexual abuse and has a bad gambling habit.
While there are slight resemblances to the original, Herzog's film, which stars Nicolas Cage in the Keitel role and moves the action to New Orleans, is more a reinvention of Ferrara's film than anything else, critics have noted.
With all the controversy and baggage that can come with a do-over, why do it in the first place?
There is good reason to remake a lot of films, says Joe Leydon, a critic for industry magazine Variety. For instance, maybe an earlier version didn't get it right.
The Screening Room
Bringing you the inside track on all aspects of the movie business around the globe.


But sometimes producers of remakes may use the original film as a sort of advertising gimmick, especially as movies become increasingly more expensive, and consequently riskier, to make, he added.
"When you're going to take a risky bet, you try to look for any advantage -- real or imagined -- you can get."
That can include the name recognition that a familiar title resonates or the impression an original has made on audiences.
For his part, Herzog has said that he never set out to remake Ferrara's film. "Even the most uninformed know this film has nothing to do with the film of the similar title.
"It was just the property -- one of the producers owned the rights, and was speculating for a franchise," he told CNN.
Even remakes of films that aren't classics can touch a nerve.
People have fond memories of certain movies, said Leydon. Maybe they harbor feelings of nostalgia for a horror film they saw on a date or remember sneaking into the den to watch on cable TV.
Toying with these feelings can be tricky for any filmmaker, no matter how accomplished they are. But that's unlikely to stop the steady flow of remakes.
There's an endless supply of material for do-overs.
Some filmmakers like Austrian director Michael Haneke -- who made an English version his original German-language 1997 film "Funny Games" -- are even inspired to remake their own movies.
And as Leydon pointed out, "If you do a remake of anything more than 20 years old, you have a very good chance of appealing to new audiences who at best are vaguely aware of the fact there was an earlier version."
While the necessity of the remake will always be debatable, what is clear is that they'll keep on coming. These re-imaginings could be making their way to a screen near you:
"Fame"
An update of the 1980 Alan Parker film that made leg warmers and ripped tights the epitome of cool is set for release September 25. The original movie about teenagers at the New York Academy of Performing Arts inspired a TV series and of course, made performers the world over to want to live forever.
"Kung Fu Kid"
A remake of the 1980s classic "The Karate Kid" starring Ralph Macchio and Pat Morita started filming in July and is expected to hit theaters next summer. The new version is set in China rather than California and stars Jackie Chan as Mr Miyagi while Will Smith's son, Jaden, takes the title role.

See gallery of do-overs to look out for »
"Tell No One"
Miramax and Focus Features International have acquired the rights to make an English version of the French thriller about a man who discovers his dead wife may actually be alive, according to Variety. The project is still in early stages, according to the report.
"Dune"
Once, twice, three times a charm? Peter Berg, the director behind the movie "Friday Night Lights" and producer of the subsequent TV series, told MTV he's still planning an adaptation of the sci-fi classic that could have franchise potential. Berg's remake of the epic would follow in the footsteps of David Lynch's 1984 version and a TV mini series that aired in 2000.
"Nightmare on Elm Street"
Freddy Krueger is making his way back to the big screen. Wes Craven's 1984 hit "Nightmare on Elm Street" is being revisioned by Samuel Bayer, a music video veteran who is making his feature debut with the horror remake. The film is scheduled for release in April 2010.
"True Grit"
The Coen brothers are planning a remake of sorts of the western. The brothers want to adapt the Charles Portis novel that was made into a film starring John Wayne in 1969, according to Variety. But their version will reportedly hold closer to the book than the original movie.

"Footloose"
Kevin Bacon won hearts as a bad boy with some serious moves in the 1984 original, and now Chace Crawford from "Gossip Girl" is set to fill those big shoes after Zac Efron of "High School Musical" fame reportedly pulled out. The movie is expected to be released in 2010.
"Straw Dogs"
Sam Peckinpah's notorious 1971 film featured Dustin Hoffman as an American academic who faces violent confrontation from the locals when he and his English wife move to rural England. Rod Lurie's version will change the locale to the deep South and star James Marsden (Cyclops from the "X-Men" movies) and Kate Bosworth, according to the Hollywood Reporter.
E-mail to a friend