STORY HIGHLIGHTS
George Clooney stars alongside a goat among others in Iraq-based movie

Paranormal war comedy "The Men Who Stare at Goats" opens this Friday

Actor also fronts two more acclaimed, upcoming films "Up in the Air" and "Fantastic Mr. Fox"
Clooney on future projects: No more working with farmyard animals, no more kids
London, England (CNN) -- It may seem stranger than fiction, but George Clooney's latest film, paranormal comedy "The Men Who Stare at Goats," was inspired by real events.
"It's funny, there are things that are made up in this screenplay, but the wackiest things are actually the real ones," said Clooney
Like starring alongside a goat.
Clooney's role as Lyn Cassady, an operative of the New Earth Army, required him to play opposite the farmyard animal to demonstrate the army's psychic warfare strategies, among them the ability to kill goats by staring at them.
Known for his dry sense of humor, the actor said of his four-legged co-star: "This goat was a particularly nice goat. The goat was a great actor."
The movie also features Jeff Bridges as founder of the top-secret New Earth Army program, Ewan McGregor as a reporter who gets entangled with Cassady and Kevin Spacey as a renegade psychic.
This goat was a particularly nice goat. The goat was a great actor
--George Clooney
Inspired by British writer Jon Ronson's non-fiction bestseller about the U.S. military's foray into psychic warfare, "Men Who Stare" is set in Iraq, but it's not about the war in Iraq, says Clooney, who also starred in David O. Russell's 1999 movie "Three Kings" about the Gulf War.
"We didn't think of this as an Iraq war film. We thought of this as a different story completely," Clooney, who is also a producer of the movie, said at a press conference for the film's London premiere last month.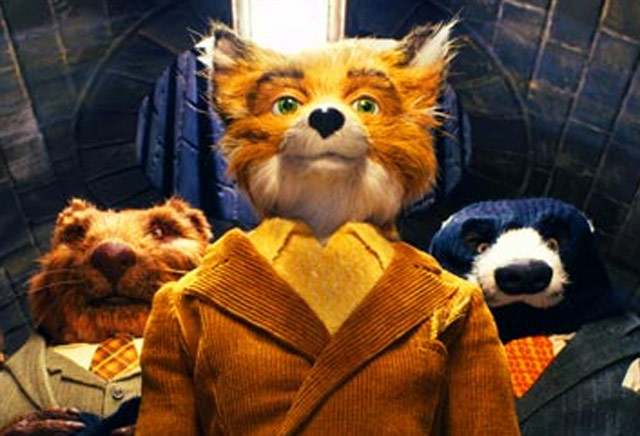 Gallery: Fantastic Mr. Fox
"I think this film is a glancing blow at Iraq and it just happens to take place there. I never felt it was dealing with the idea of the war," he said of the dark comedy.
Dark and comic are two words that aptly describe a trio of films that are currently being fronted by Clooney, who despite his Cary Grant magnetism has tended to avoid romantic comedies and opted instead for roles in complex films like Joel and Ethan Cohen's "Burn After Reading" (2008) and "Michael Clayton" (2007).
This year, Clooney also stars in "Up in the Air," another dark, yet still humorous film, that looks at the human cost of recession as well as one man's search for purpose in life.
Clooney has earned critical praise for his portrayal of Ryan Bingham, a corporate consultant who fires people for a living, in the new film by "Juno" director Jason Reitman.
"Up in the Air" will hit theaters in the U.S. in December and be released worldwide in January next year.
Clooney also lends his voice to the charismatic "Fantastic Mr. Fox" in Wes Anderson's stop-motion animated take on Roald Dahl's classic children's book.
The movie, which is set to open in the U.S. on November 13, is more funny than dark, but family dysfunction and the fight of the foxes against humans for survival add an element of seriousness to the tone.
Now, after portraying a fox and starring alongside a goat, Clooney is ready to take a break from films involving animals.
But "no more farm animals -- and no more children!" he said of his future projects.