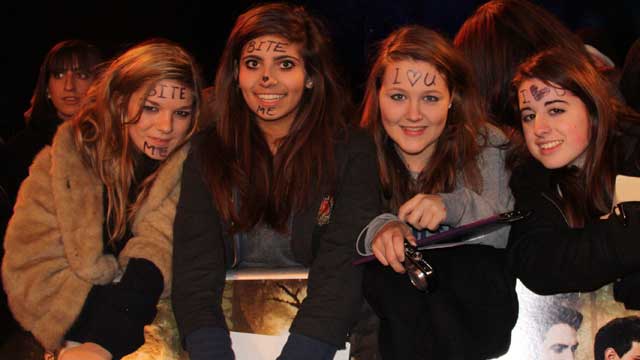 STORY HIGHLIGHTS
Fangirls expected to drive the box-office success of vampire romance "New Moon"
Movie could be year's biggest opening weekend, says one industry watcher
"New Moon" could focus more attention on growing power of female fans
Second installment of "Twilight" saga opens Friday


London, England (CNN) -- Melissa Buttigieg, 23, saw "Twilight" 15 times in the theater. Hassina Ford, 19, watched it on the big screen 10 times, and Aimee Murphy, 22, watches the DVD every day.
They were among the throng of overwhelmingly female fans who gathered on a recent evening in London with the aim of catching a glimpse of the cast of "New Moon," the second film based on the the best-selling "Twilight" book series by Stephenie Meyer.
The crowd -- representing factions of both Team Edward and Team Jacob, referring to the two male characters at the center of the vampire romance saga -- shrieked and screamed as the teenage heart throbs walked down the red carpet at the event for UK fans.
"Twilighters," as fans of the franchise are known, can undoubtedly match fanboys for fervor. But can they redefine what makes a blockbuster in Hollywood?
Whether female-centric films are bankable has long been a topic of debate in Hollywood. Conventional wisdom has held that movies need to appeal to young, male audiences in order to score big.
With the female audience, if you build it, they will come. But you have to build exactly the right movie.
--Paul Dergarabedian, Hollywood.com
But the success last year of "Twilight," which raked in $70 million during its opening weekend, as well as other female-oriented films like "Sex and The City" and "Mamma Mia," has made Hollywood think twice.
"When women audiences get excited about a particular movie, the box-office results are huge. It's an audience segment that cannot be ignored," says Paul Dergarabedian, president of the box-office division of Hollywood.com.
That view is likely to gain further credibility when "New Moon" hits cinemas Friday. The Romeo and Juliet tale with a vampire twist, starring Robert Pattinson and Kristen Stewart, is expected to generate blockbuster box-office sales for Summit Entertainment, the studio behind the film.
See what the "New Moon" cast has to say about the movie

Video: New 'Twilight' chapter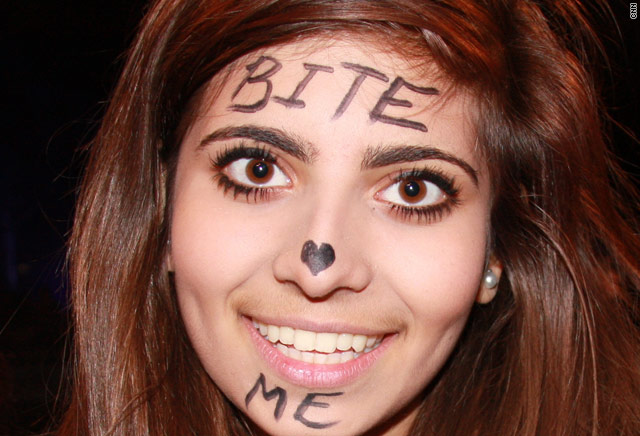 Gallery: Meet the Twilighters
Movies geared towards women can do extremely well in terms of ticket sales, says Dergarabedian. Female fans not only tend to see films more than once, but also will organize group outings to see a movie.
But successful female-centric films often are dismissed as flukes instead of viewed as trends, says Melissa Silverstein, a media consultant who also runs the Women & Hollywood blog.
The industry doesn't disclose figures on marketing by gender, but most films tend to be geared towards male audiences.
By and large men dominate when it comes to driving opening weekend figures, which studios place a heavy emphasis on, Silverstein says.
The two biggest opening weekends this year have been "Transformers; Revenge of the Fallen" and "X-Men Origins: Wolverine," which took in $109 million and $85 million in their first weekends, respectively.
Even though women are an important audience, they still are largely overlooked by studios, which want "the biggest bang for their buck," says Silverstein.
She thinks "New Moon" has the potential to set records for a female franchise and could possibly unseat "Transformers" as the year's biggest opening weekend.
But will it be a wake-up call for Hollywood?
"I can only wish," she told CNN. Instead of dismissing it as a "Twilight" phenomenon, studios should look to it to build the next female-driven franchise, she says.
As Dergarabedian points out, it takes a very specific type of movie that is marketed effectively to score well with women.
"Twilight" the movie, based on a book series that has sold 85 million copies worldwide, has been so successful partly because it was already a well known property.
"With the female audience, if you build it, they will come. But you have to build exactly the right movie," he told CNN. Share your iReport reviews of "New Moon"
For studios seeking box-office fortunes, he says, the holy grail is a film like "Titanic," which played well with audiences in all four audience quadrants: Male, female, under 25 and over 25.
But a movie that has a limited, niche audience can also drive a huge box office.
The world of fandom is generally considered to be dominated by men, with annual conventions like Comic-Con, a showcase for sci-fi and fantasy movies, drawing legions of young males.
But die-hard movie fans are just as likely to be female as male, according to a recent study conducted by research and consulting firm OTX and SoundThinking NY, a strategic planning company.
The study of 5,230 self-professed movie, music and video game fans found that, be they they fangirls or fanboys, loyal fans tend to be opinion leaders who can spread excitement about movies.
That underscores the importance of this key demographic, regardless of which gender they are, says Bruce Friend, president of client development at OTX.
Obsessed fans are not only very heavy consumers of media content, but also influence other people's behavior. Friend said they have a propensity to "share, evaluate and influence and Hollywood is really in tune with what this audience can do."
Teo Kermeliotis and Patrick Deane contributed to this report.