By Mike Bruno






(Entertainment Weekly) -- Ron Asheton, the guitarist for the influential punk rock band The Stooges, was found dead this morning, police tell the Detroit Free Press.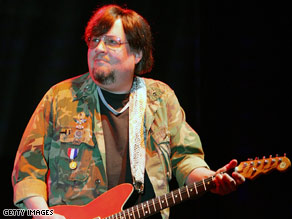 Ron Asheton helped form The Stooges in 1967 with his brother Scott and Iggy Pop.
The 60-year-old's body was found in his Ann Arbor, Michigan, home after a caller phoned police saying they hadn't heard from him in a few days. Authorities are investigating the cause of death, but foul play is not suspected.
The Stooges were founded in 1967 in Ann Arbor by Iggy Pop, Asheton, and his brother, Scott Asheton. Though never a major commerical success, the band has been cited by artists like Thurston Moore of Sonic Youth and Jack White of the White Stripes as a major influence.
The group's albums included a self-titled debut, which was released in 1969, and 1970's "Fun House." Among the group's songs are "I Wanna Be Your Dog," "1969" and "Raw Power."
The Stooges are nominated for induction in the Rock and Roll Hall of Fame, with inductees set to be announced later this month. They reunited for a series of shows in 2003, and released a new record, "The Weirdness," in 2007.
E-mail to a friend

CLICK HERE to Try 2 RISK FREE issues of Entertainment Weekly
Copyright 2009 Entertainment Weekly and Time Inc. All rights reserved.