By Shanon Cook
CNN





NEW YORK (CNN) -- Erin McCarley displays all the enchanting qualities you'd expect from an up-and-coming singer-songwriter: earnestness, gratitude and just a hint of uncertainty behind those clear blue eyes.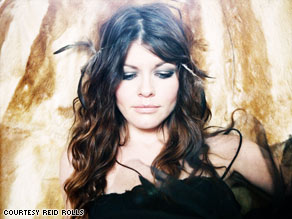 Erin McCarley's songs have been featured on "Grey's Anatomy" and the movie "He's Just Not That Into You."
The petite singer is upbeat despite having been up since 4 a.m. for a performance on a cable morning show. It's also her birthday -- "Thirty! I can't believe it," she says, cringing slightly -- and she's looking forward to squeezing in a nap before celebrating with friends over dinner at a cozy Brooklyn restaurant.
Originally from Dallas, Texas, McCarley started writing songs while working in retail in San Diego, California. Her heartfelt lyrics and Fiona Apple-esque vibe caught the attention of producer Jamie Kenney, and the pair relocated to Nashville, Tennessee, where they recorded McCarley's Universal Republic Records debut album, "Love, Save the Empty."
It debuted at No. 86 on the Billboard 200, and tracks have been filling up all sorts of coveted empty spaces. The song "Pitter-Pat" recently was featured on ABC's "Grey's Anatomy," and the album's title track will appear in next month's Jennifer Aniston-Ben Affleck film "He's Just Not That Into You."

Watch Erin McCarley sing »
McCarley spoke to CNN about role models, the importance of shutting the world out when she sits down to write and keeping cool for David Letterman.
CNN: You wrote or co-wrote all the songs on this album. How important is it to you to sing your own lyrics?
Erin McCarley: I think there's an art in delivering a song whether it's your own or not. You've got your Beyoncé and your Christina Aguilera and artists that are really good at delivering a song that they didn't write. Maybe they write some of theirs, I'm not sure. For me to be able to connect with people, I have to be really into it and understand where it came from. So it's super important to me that it's my own song.
CNN: What about when you're performing live? Do you ever do covers?
McCarley: I do, and I'm working up a few right now. There's a Patty Griffin song that's special to me. It's called "Mary."
CNN: When you write, do you need to be in a certain place or in a certain mood?
McCarley: Well, for this record I had to be isolated, because I am a new writer and as you write, inhibitions fall down. Inhibitions go up for me whenever people are around, so I isolated myself in my house and had to sit still for quite some time to really get into what I was really trying to say and what really needed to be said.
CNN: Did you watch the "Grey's Anatomy" episode [that featured the song "Pitter-Pat"]?
McCarley: Yeah, I did. It's pretty crazy. You write a song about a particular thing and ... you want people to identify [with it] in whatever way they're going to, so it's not going to be exactly the way that you wrote it, for that purpose. And I'm careful with giving up a song to certain scenes. I always see the scenes before I say yes.
CNN: How is your song being used in the movie "He's Just Not That Into You"?
McCarley: It is being used at the very end, and it's kind of when they're bringing all of the different aspects of the movie together. There's a bunch of different scenes wrapping up.
CNN: Tell me about the song "Love, Save the Empty."
McCarley: It's a song that I started writing to go against pop culture a little bit and the lack of role models in the world for kids.
CNN: What about your parents? Were they good role models?
McCarley: Very. It's funny when my parents first heard that song they were like [pouting], "Did we do a good a job?" and I said, "Of course, you did."
CNN: What was the best thing about performing on Letterman [last week]?
McCarley: Oh my gosh. Everything. It was pretty amazing. I knew it was going to be exciting. But it was the perfect day. During rehearsal ... we're standing onstage looking at the set, looking at the old Ed Sullivan Theater, and it was a really surreal moment. And we all took a deep breath and just laughed that we were standing there all together.
CNN: Was it as cold in there as everyone always says it is?
McCarley: Yeah. I got a memo the day before saying wear the right clothing because they set the temperature at 48 degrees. 48 degrees! Who does that?

CNN: When you were a young 'un, did you ever think you would one day make music?
McCarley: When I was young, my dream was to perform, but I didn't know in what capacity. I think a lot of kids do dream of that, but I was a dancer, and so I had all these dreams of being the backup dancer in music videos. So it was in a musical sense, but singing and songwriting was a process for me. It came a little later.
E-mail to a friend

All About David Letterman