By Alan Duke
CNN





WASHINGTON (CNN) -- Sasha and Malia Obama had front row seats for Monday night's Kids' Inaugural Concert, but jumped on stage when the Jonas Brothers invited them up.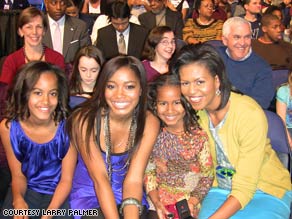 Michelle Obama and her daughters pose with actress Keke Palmer at the Kids' Inaugural.
Their mother -- incoming first lady Michelle Obama -- declared the show "pretty cool."
Thousands of kids -- mostly children of military families -- danced and yelled in Washington's Verizon Center as Miley Cyrus, Demi Lovato, Bow Wow, the Jonas Brothers and others performed.
"Are we fired up in here?" Michelle Obama asked as she took the stage halfway through the two-hour show. "Are we ready to go?"
Obama called on the young people to play a part in their country's future now, in activities such as volunteering at shelters for the homeless, visiting elderly neighbors or writing letters of support to troops overseas.
"We all have something incredible to contribute to the life of this nation," she said, adding, "And kids, this means you, too, right?"
Sasha, 7, kept her camera ready, getting photos of her favorite teen stars.
Watch with CNN
Watch the historic inauguration of Barack Obama with CNN and the best political team on TV.
Coverage begins Tuesday, 10 a.m. ET

While the Obama daughters have met many of the stars along the campaign trail in the past year, it was their first time to meet singer-actress Keke Palmer, a presenter at the show.
Palmer, 15, said Michelle Obama told her "she was really proud of me."
Most of their backstage talk was about Palmer's movies and TV show, she said.
Like the Obamas, Palmer is a Chicago, Illinois, native.
E-mail to a friend

All About Demi Lovato • Jonas Brothers • Miley Cyrus • Bow Wow