By Alan Duke
CNN





(CNN) -- Jenny's number -- scribbled on a fictional bathroom wall and burned into your mind by a 1982 pop song -- has ignited a fierce online bidding war.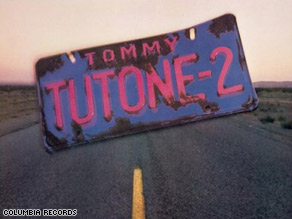 "867-5309/Jenny" originally appeared on Tommy Tutone's "Tommy Tutone 2" album.
Spencer Potter, who got the number for free five years ago, said he was "definitely a little shocked" that eBay bids topped $365,000 by Tuesday morning for the number made famous Tommy Tutone's "867-5309/Jenny" hit.
"It's a little more than '80s fanatics," Potter said. "It's a lot of mid-size or larger corporations looking to get more brand awareness."
Potter, a 28-year-old DJ who holds the area code 201 version, is selling it as the chief of his Weehawken, New Jersey, DJ business.
Losing bidders could take consolation in knowing there are dozens of U.S. area codes with the same number.
A Philadelphia-area resident who holds the toll-free versions -- both 800 and 888 -- said he values his numbers in the millions.
Jeffrey Steinberg said his best offer so far, rejected several years ago, was for $1 million from a national weight-loss company.
He acquired the numbers in the early 1990s for a pizza delivery campaign and has licensed them for other advertisers in the years since.
Steinberg said after seeing the surging bids that he was considering putting his numbers up for auction.
Don't Miss
Potter, who initially predicted his number would go for as much as $50,000, said the international media attention the eBay auction has attracted has drawn the big corporate bidders.
"The more this story grows, the more this is actually worth," Potter said.
Potter said he is aware some highly publicized eBay auctions in the past have gone wrong with fake bids.
"I'm not counting any chickens before they hatch, just hoping to get through the auction smoothly and see what happens then," he said. "I'm going through a pretty strict verification process. In order for a bid to stay on there, I need to get in touch with the potential bidder."
If a bidder "appears to be backing out, I have no reservation with canceling any bids," he said.
Potter said he has gets about 40 calls a day to the number.
"The minute we plugged the phone jack into the wall, it began ringing," Potter said.
Mostly, Potter said, the callers are "a lot of '80s fanatics" and he lets the calls ring through to his voice mail.
Potter's DJ business goes with the number, a necessary provision to get around phone company rules against selling telephone numbers, he said.
Phone companies technically own the numbers, not the customers. Potter said Vonage, the company that assigned the number, gave him permission to transfer it as part of the sale of his business.
EBay halted a 2004 auction by the purported holder of the 212 area code version of the number, The New York Times reported.
E-mail to a friend

CNN's Laurie Segall and CNN Radio's April Williams contributed to this report.