By Alan Duke
CNN





(CNN) -- Paul Simon and Art Garfunkel are getting their group back together this spring for a reunion tour of Asia and Australia, according to a source close to the group.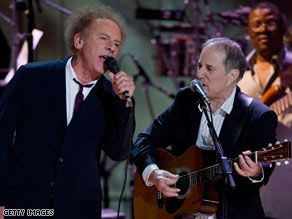 Art Garfunkel and Paul Simon, here performing at a 2007 gala, are planning to tour this summer.
Reunion plans apparently began after Simon and Garfunkel played three songs together during Simon's two-night gig at New York's Beacon Theatre in February.
Tour rehearsals begin in New York in May and the tour will launch in New Zealand around the first week of June, according to the source.
Shows in Australia and possibly Japan will follow, the source said.
Simon's manager, Jeff Kramer, has asked the group's musicians to clear their calendars -- which means canceling other shows -- from late May through June, the source said.
Kramer, in a statement to Rolling Stone magazine after the February show, hinted that a tour was in the works.
No official announcement has been made and Simon's publicist has not responded to CNN requests for comment.
"Yes there have been conversations taking place, but nothing has been confirmed," Kramer told Rolling Stone.
Simon and Garfunkel last reunited for their "Old Friends" tour in 2003 and 2004, which Rolling Stone estimated earned $123 million.
The duo, friends since childhood, is famous for breaking up and making up about every dozen years.
Their biggest hits together came in the late 1960s -- including "Bridge Over Troubled Water," "Mrs. Robinson" and "Scarborough Fair."
E-mail to a friend