LONDON, England (CNN) -- Oasis frontman Liam Gallagher on Saturday denied that he is the man shown pointing at the Google Street View camera as it drove past his local pub in London last summer.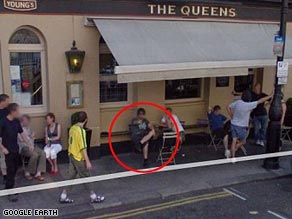 Liam Gallagher says the figure captured on Google Earth outside a pub in London is not him.
"Just saw google earth apparently that's meant to be me, who ... wears legwarmers with reeboks?? Not this kid!! LG," he wrote on Twitter.
Though available for a while in the United States, Google Street View only launched in Britain last week. As in America, the launch in Britain prompted people all over the country to try to find themselves or spot funny images and famous faces on the service.
Gallagher was apparently spotted outside The Queens pub in Camden, in north London, a place he's known to frequent.
The picture shows a man dressed in a dark T-shirt and long shorts sitting at an outdoor table. He points at the camera, obviously having seen the Google car and its Street View camera drive by.
The service blurs people's faces so it is hard to confirm whether it is Gallagher.
Though the man isn't wearing legwarmers, Gallagher is apparently talking about the man's ankle-high shoes and thick black socks.
E-mail to a friend