By Quinn Brown
CNN





LOS ANGELES, California (CNN) -- There's nothing new under the sun, the old saying goes. Then what can you say about hearing a song written in 2009 and swearing you grew up listening to it -- yet it doesn't sound like anything that's come before?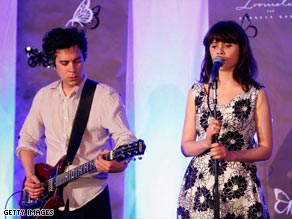 M. Ward performs with Zooey Deschanel in a pairing the duo calls She & Him.
M. Ward -- the "M." stands for Matt -- may not have invented this concept, but he has made it his own. And it is at the heart of his latest album, "Hold Time" (Merge).
The song "Fisher of Men" starts with the distinct gallop of a Johnny Cash tune until the ethereal touch of a Spector-ian string arrangement eases in. "Rave On" is the '50s Buddy Holly song, but with a 1960s production and a dash of Sonic Youth. There are equal parts Williams and Wilson (Hank and Brian, respectively), sometimes within the same song.
Ward thinks of these mixes as "endlessly entertaining."
Ward also likes "unusual pairings," as he calls them, in his collaborations. He has worked with artists such as Neko Case, My Morning Jacket, Cat Power and Bright Eyes, to name a few.
Lately, his closest and most famous musical partner has been actress Zooey Deschanel, who's the "She" to Ward's "Him" in the band She & Him. The pair released the "Volume One" album last year, which Paste magazine named best of 2008.
Playing before a sold-out crowd at Los Angeles' Fonda Theater, Ward paid tribute to both past and present, usually at once.
His piano and harmonica take on the song "Hold Time" sounded like Bob Dylan covering M. Ward, and surprise guest Deschanel sang with Ward on the Miracles' "You Really Got a Hold on Me" before igniting the crowd with the new single "Never Had Nobody Like You" -- two songs that could have been equally comfortable as a 45 rpm single or on iTunes.

Watch Ward's "Chinese Translation" video »
CNN sat down with Ward before the performance. The following is an edited version of that interview.
CNN: After the release of the She & Him record and this new solo album, there has been a lot of light on you. Has it been a welcome change?
M. Ward: Ever since I started headlining shows, I've gotten progressively bigger. It's been a comfortable, gradual slope. I can't complain.
CNN: Have you ever had the desire for a big breakthrough hit?
Ward: I'm not looking for a hit, really. It's always been [more about] connecting with something.
CNN: Your latest album is "Hold Time." I know you let others do the interpreting of your work, but to me the title means "timeless." Your music has been labeled that way quite often ...
Ward: I think that's fine. ... That's a good interpretation [of the title]. People having been coming up with a lot of different interpretations, as they did for "Post War." I prefer those sorts of abstractions. You can create your own idea of what the record is about, and I know that my favorite records I have my own understanding of where it comes from and what the overarching foundation is. ??? It just makes music richer ... if it's not like "Snakes on a Plane," where you know exactly what you're getting into.
CNN: Is there anything in particular you tried to touch on with "Hold Time" as opposed to previous albums?
Ward: There are a lot of different things. The first song I recorded was the title track. That set off this domino effect of experimenting with these different orchestral instruments that I've never worked with before. It set off an opposing force, because I didn't want to have a record that was overdone with orchestral instruments. It was a matter of finding a new balance between orchestral sounds and the sounds I've grown up playing, which are cheaper instruments like pawn-shop keyboards.
CNN: You have said that a pinnacle sound for you would be a musical marriage between Buddy Holly and Phil Spector. Do you feel like you captured that on this album?
Ward: That version of "Rave On" was one of the influences. I wanted to play pretend and see what would happen if somebody like the Ronettes had written that song. But I wanted to give it a different guitar sound. So it was combining Buddy Holly with the Ronettes and Link Wray. So many times in the studio you mix up different medicines, and you hope for an explosion.
CNN: There's a nice mix of the classic M. Ward songs such as "Shangri La" and the bigger productions like "Hold Time." How do you go from the stark to orchestral in terms of songwriting?
Ward: It's very much following your instincts in the studio, and trial and error. It's a process of creating it and destroying it and building it back up again until you find something that's a perfect combination of the familiar and unfamiliar.
CNN: You've collaborated with an array of musicians over the years. What would be your ultimate collaboration?
Ward: Tony Bennett. I've never reached out to him, but I think it would be an unusual pairing and I like unusual pairings.
CNN: Religion is prevalent through this album. How does that affect or inspire you?
Ward: There is a relationship between spirituality and music that I can't put my finger on, but I know it's there. I feel that music is capable of going to those areas a lot easier than, say, a normal conversation. So it's one of those mysteries that is easy to touch on in music but hard to touch on in interviews. (laughs)
CNN: What has it been like writing songs in the post-George W. Bush America?
Ward: That's something I've been thinking about a lot. When I started making records, it was 2000, when Bush came into office. It was a dark time, and without thinking about it you try to find ... ways that you can be proud of your country. I think everybody does that, no matter what country you're from. For me, our political decisions were not a source of pride, but our musical innovations have been a great source of pride. ...
So I instinctively turned to music to find pride in country. Now that we have a leader who I believe is going to change the way the world sees us, it's hard to say what is around the bend, but I'm excited [to tour overseas], and I think people will share in the enthusiasm we have for this huge change.

CNN: It seems like your music was never reactionary or lashing out at anything political. ...
Ward: I'm not that interested in getting anything too heavy off my chest or complaining in some monumental way. I'm more interested in telling stories where people can make their own implicit connections.
E-mail to a friend