By Alan Duke
CNN





(CNN) -- Do not call Billy Bob Thornton an actor when you are interviewing him about his music.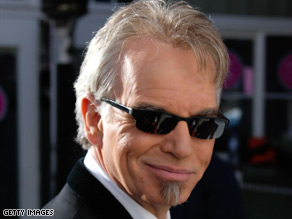 Billy Bob Thornton's interview on a Canadian radio show is garnering lots of attention.
A Canadian radio host learned that lesson when Thornton and his electric hillbilly band -- the Boxmasters -- visited his Toronto, Ontario, studio Wednesday morning.
When Jian Ghomeshi introduced the trio on his CBC show, he noted that its singer-songwriter-drummer was also an "Oscar-winning screenwriter-actor-director."
Thornton's publicist, Arnold Robinson, disputes suggestions that what followed was a breakdown by the actor -- hmmm, musician.
He "simply elected not to engage with the interviewer because of the direction of the interview from the outset," Robinson told CNN. Thornton took the reference to his movie career as an insult to his musical endeavor.
The radio interview, which also was recorded on video, may leave the audience wondering whether this was a controlled performance by Thornton or a public breakdown that revealed true anger over a perceived insult of his music.

Watch the interview with the actor-musician head south »
In their first exchange, Thornton stonewalled his questioner:
Ghomeshi: Billy Bob, you guys formed only in the last couple years, right?
Thornton: I don't know what you're talking about.
Ghomeshi: How so?
Thornton: I don't know what you mean by that.
Ghomeshi: When did the band form?
Thornton: I'm not sure what that means.
Guitarist J.D. Andrew briefly rescued Ghomeshi by confirming the group came together two years ago.
The Boxmasters are on tour opening for Willie Nelson, which prompted Ghomeshi's next question directed at Thornton.
Ghomeshi: What do you learn from Willie Nelson, Billy Bob?
Thornton: I've never met him
Ghomeshi: (laughing) Are you being ironic, or are you being serious?
Thornton: I don't really know him.
Ghomeshi: You've never met Willie Nelson?
Thornton: I said hello to him once. He's a nice guy.
Thornton's band mates talked about how their music was a mix of Southern hillbilly influences and the 1960s British rock invasion. Ghomeshi tried to draw Thornton into the conversation again.
Ghomeshi: And that was true for you, Billy Bob, growing up it was sort of a combo of Stones and Monkees and Buck Owens?
Thornton: I just liked baseball when I was a kid.
Ghomeshi: And you almost became a professional baseball player, right?
Thornton: I don't know. Maybe.
Ghomeshi: But you didn't love music when you were a kid?
Thornton: I subscribed to a magazine called Famous Monsters in Filmland, which the publisher was a guy named Forrest J. Ackerman, who passed away recently.
The interviewer then asked Thornton if he remembered what music he listened to as a kid, but he rambled on about a monster model contest the magazine sponsored. Thornton said he entered but did not win.
The tension came to a head when Ghomeshi asked Thornton if his bizarre answers were a reaction to his brief reference to his movie career.
Ghomeshi: You would prefer me to only do this interview not mentioning at all, just to clarify, at all that you've ever done anything in terms of acting, screenwriting.
Thornton: That's correct.
Ghomeshi: Part of the attention that you are getting is because of the great career you've had in other ways. What I'm explaining is I'm not trying to be insulting to your musical. ...
Thornton: What I'm explaining is that we said do not talk about s**t like that. And we also said that we didn't want to hear anything about how this is my first love. You wouldn't say that to Tom Petty, would you? "I understand music is your first love." Well, my first love was a chick named Lisa Cone. You know what I mean?
The two men then declared a truce so they could finally talk about the music Thornton called "cosmic cowboy music."

No matter how good of a singer and drummer Thornton may be, his ability to create memorable characters is remarkable, as evidenced by his Oscar-nominated role of Karl, the mentally impaired convict in "Sling Blade."
We now have a new Billy Bob Thornton character -- the musician who wants you to forget he was ever an actor.
E-mail to a friend

All About Billy Bob Thornton • Willie Nelson • Music