LOS ANGELES, California (CNN) -- Authorities arrested a 26-year-old woman in camouflaged fatigues Thursday, accusing her of peering into the windows of Britney Spears' house, the Los Angeles County Sheriff's Department said.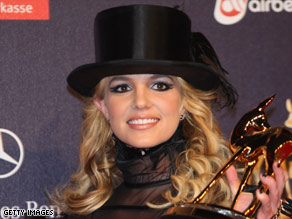 The arrest was made at Britney Spears home in Calabasas, California.
Security personnel found Miranda Tozier-Robbins looking through the windows of the singer's home in Calabasas, California, the department said in a written statement.
Tozier-Robbins also had a backpack and video equipment, the statement said.
Security personnel asked her to leave, but she "balked," the statement said. They then physically escorted her off the property. A policeman arrived later to arrest her.
She was booked on charges of trespassing and disorderly conduct, the statement said. Bail was set at $5,000, but Tozier-Robbins was released on a citation to appear in court on June 16.
The whereabouts of Spears, 27, during the incident were not immediately known.
E-mail to a friend

All About Britney Spears