By Quinn Brown
CNN





LOS ANGELES, California (CNN) -- Robyn Hitchcock was blunt.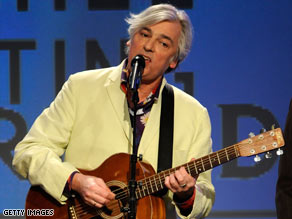 Robyn Hitchcock doesn't mind being described as a surrealist.
"I'll be impressed if I'm here in any functioning way past 70, but you never know. I used to think I was only going to make it to 30," he said. "The Me Generation is heading for incontinence. We're right behind it."
Hitchcock, 56, is obviously little impressed with his influence, but it's vast. The musician spent the late '70s and early '80s laying the groundwork for what would become alternative and indie music with his previous bands, the Soft Boys and the Egyptians, and you can hear echoes of his surreal lyrics and chiming chords in bands such as the Flaming Lips, the Decemberists and -- especially -- R.E.M.
Indeed, Peter Buck of the legendary Athens, Georgia, group supports Hitchcock in his latest band, the Venus 3, and plays on the new album "Goodnight Oslo" (Yep Roc). The record, described as "ramshackle" by bandleader Hitchcock, contains some of the most raw and propulsive music of his career.
He calls the sound "liberating."

Watch Hitchcock perform in L.A. »
"Since 1978, Brits have only rocked ironically," he said. "The New Wave police have never really felt the collar of the American music scene."
And then there are the lyrics, which are as analyzed with as much delight by Hitchcock followers as "Desolation Row" is by Dylanologists. They're of a piece with his conversation, which features musings such as "the creatures of the future will be more advanced. They might be cats. It could be the Feline Dynasty" or his description of an artist as "a time machine ... a hand thrusting through the prison bars trying to touch the hand of someone walking past."
CNN sat down with Robyn Hitchcock at his manager's house in the Hollywood Hills. The following is an edited version of the interview.
CNN: I've always read the words "offbeat" and "surreal" associated with you, but I always wondered if that statement was off because what you write seems perfectly natural to you.
Robyn Hitchcock: What I do is natural to me, yeah. It has to be defined by other people to whom I seem odd.
I like surrealism. It's putting something where it doesn't belong. So if we look at the sky and we see a slice of toast shining down, that's surreal. It's very easy to do.
Surrealism is just the way I think things have gone in the last hundred years, and I'm part of that; I just don't perhaps blend in. It's always incongruous. I tend to notice that things are incongruous and point them out, so in that way maybe I'm just more of a realist.
Anyway, it doesn't matter how I'm perceived. What matters is that my perceptions become part of people's way of seeing.
CNN: Why do you think you've been able to thrive as long as you have? Many other artists have come and gone since you started.
Hitchcock: Partly because I haven't finished yet. I think you always have the energy for things you want to do. I've already reached the stage where people say, "Robyn, you're very energetic. Look at the old chap hopping around over there! You ought to rest." (laughs)
It's probably true that, for every day there is one less day for me to be Robyn Hitchcock, the more motivated I am to use that time. Not that I know what I want to say. I just know that once I'm gone, I won't be able to say it.
CNN: Many musicians you've worked with talk about the spontaneity in your recording sessions. Do you think the urgency you were talking about contributes to that?
Hitchcock: Yeah, maybe. Because the ideas are fast, and they come up from nowhere. I am the portal for those ideas and things. I mean, people seem to like it. I like to just crash in.
I think you shouldn't be heedless about everything. Could anything be more heedless than the way mankind has taken over this Earth? What wise reflective sage soul decided to create the L.A. traffic system?
CNN: How was working with the Venus 3 compared to your previous bands?
Hitchcock: Peter and I have been playing for 25 years, so he is past and present. He used to play with us when I was with the Egyptians in the '80s. The Venus 3 are from the Northwest, and they are super bright, but bright enough not to be clever. It's probably the most rocking outfit I've had. Funny that it's coming in my mid-50s! A couple of nights grinding my hips on stage, and I have to go and see the chiropractor.
CNN: How does [the arranging] process differ from your songwriting back in the '70s and '80s?
Hitchcock: The guys in Soft Boys, particularly Morris Windsor and Andy Metcalfe, were good on producing tight arrangements. ... There was a tightness about those two; needless to say they were huge Steely Dan fans. I've always been more ramshackle.
With the Venus 3, it's instinctive. I don't know if it's a national thing or difference in personalities. It feels very happy playing it. It's great to blunder through the thickets of life and find yourself at this age still having fun playing an electric guitar, bass and drums.
CNN: You've been tagged as one of the godfathers of alternative music. Does that mean anything to you?
Hitchcock: I'm pleased that I'm a part of the stream. We don't last, but the culture does. If I've been a link in the musical culture, then that's good.
CNN: I've heard you called "the alternative Bob Dylan."

Hitchcock: I wish! ...
I always say, the deeper your roots, the broader your branches. Dylan used to do many different kinds of music, read many plays and went to movies, drew pictures -- he still does. He absorbs a lot. But he goes down deep. If people get anything from my stuff, it would be nice if it's an emotional [reaction]. In the end, it's how you make people feel about your songs that lasts. If I have a fraction of that, then that's fantastic.
E-mail to a friend