By Ed Payne
CNN





ATLANTA, Georgia (CNN) -- There's a bit of a trend brewing this summer concert season -- put together a couple of big-name acts for a nationwide tour, then record a song together to promote the event.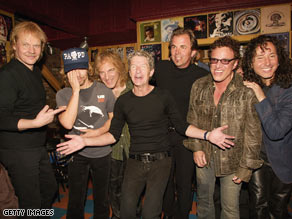 Members of Styx, REO Speedwagon and Journey in 2003. Styx and REO have teamed up for a song and tour.
It started with classic rockers REO Speedwagon and Styx, with their "Can't Stop Rockin' " tour and single of the same name.
Now Chicago and Earth, Wind & Fire are getting on the bandwagon.
The two horn-heavy bands have recorded three songs especially for their joint 30-city summer tour. It's part of a charity campaign to benefit food banks across the country -- "Three Songs for Three Cans or Three Dollars."
Chicago and Earth, Wind & Fire team up on the new song "You." The bands also take a stab at each other's material, with Chicago recording Earth, Wind & Fire's "I Can't Let You Go" and Earth, Wind & Fire covering Chicago's "Wishing You Were Here."
"The fact that the artists and bands, in this case, are touring together builds excitement with the possibility of the live performance that is exclusive to the tour," said Bruce Burch of the University of Georgia's Music Business School.
It's "sort of a 'once in a lifetime' type of attraction that helps to sell concert tickets, merchandise and, hopefully, CDs and downloads."
Concertgoers who contribute three cans of food or donate at least $3 will get a download card to access the tunes. People who don't make the shows will be able to donate online and download the songs at www.ewfandchicago.com. The Web site is expected to launch in early June.
"This is a dream come true," said Earth, Wind & Fire's Philip Bailey, who came up with the three-songs promotion.
"We want to invite everyone to help us do our small part to help feed America," added Chicago's trumpeter Lee Loughnane.
Artists jamming together on stage is nothing new, and occasionally the songs are released as singles -- U2 and B.B. King's "When Love Comes to Town," from the 1988 album and film "Rattle and Hum," for example.
Of course, duets promoting two hot artists or bands are hardly new either.
Remember Josh Groban and Charlotte Church on "The Prayer" or "Almost Paradise" by Ann Wilson of Heart and Mike Reno of Loverboy from the "Footloose" soundtrack?
"Hip-hop artists have been using duets for some time to reach audiences of both artists," Burch said. In some cases, more than two artists collaborate.
"Even before that, country artists used this means to reach a larger audience for both artists," he said, noting the collaborations between George Jones and Tammy Wynette, and Conway Twitty and Loretta Lynn.
The new songs for the 2009 tours flip conventional wisdom. For decades, groups have recorded albums, then gone on tour to promote them. Specifically recording songs to promote a tour featuring a pairing of acts is a new idea -- and possibly one whose time has come, given the re-emergence of singles in the digital download age.
Of course, it all depends on the success of the song.
In the case of REO Speedwagon and Styx, they've scored a hit with their new tune. It's been riding near the top of the classic rock charts -- the biggest original hit by either band in years.
"The jam ... is just plain, old-school, rock 'n' roll fun," REO Speedwagon's Kevin Cronin said on the band's Web site.
Should other bands follow suit and score hits, it might prompt other classic pop artists to join forces not only on tour, but in the studio as well.
E-mail to a friend