By Alan Duke
CNN





LOS ANGELES, California (CNN) -- Those extra service fees tacked on to concert ticket prices -- long a source of grumbling by ticket buyers -- will disappear for millions of seats sold by the largest U.S. concert promoter this summer.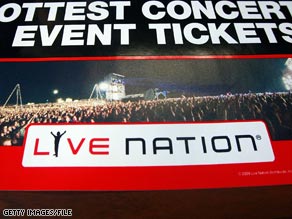 Live Nation is awaiting government approval of a merger with giant Ticketmaster.
Live Nation launches "No Service Fee Wednesdays" this week for lawn seats at amphitheaters, removing extra fees from 5 million lawn seats for shows at amphitheaters across the United States.
Live Nation insisted that the promotion was about selling more tickets and helping music fans hit by hard times, not improving public relations while it waits for government approval of its merger with Ticketmaster.
But the promotion could soothe some bad feelings.
"People get a little ticked off when they think they're paying $20 for a ticket and as they progress along the various pages of the electronic transaction, they see more fees added a long the way," said Ray Waddell, who writes about live music tours for Billboard magazine.
Live Nation will waive fees on lawn seats for 24 hours, beginning at midnight Tuesday local time and lasting through Wednesday.
Lawn seat tickets available this week include concerts by Aerosmith, Blink-182, Coldplay, No Doubt, Nickelback, Depeche Mode, Toby Keith, Brad Paisley and many others, Live Nation said.
Other shows coming later in the summer include Crosby Stills & Nash, Crue Fest 2, Def Leppard with Poison and Cheap Trick, Jason Mraz, Kid Rock & Lynyrd Skynyrd, Incubus, New Kids on the Block, Nine Inch Nails and Jane's Addiction, Phish, the Dead, Rascall Flats with Darius Rucker, the Allman Brothers Band, the Fray and the Killers.
"They're sacrificing quite a lot of revenue here," Waddell said
He estimated that fees add up to about a third of the average price for lawn seats.
The economic recession has not seemed to slow the live concert business, which "considering everything else, is going like gangbusters," he said.
"It looks like it could be a really strong year," he said. "People want to go to shows. They want to hear music."
Every tour offers some type of promotion, he said, including a lot of $10 lawn seats.
"This is a business that's pretty flexible when it needs to be," he said.
Live Nation began selling tickets to its own concerts only last year, just months before announcing plans to merge with Ticketmaster, the world's largest ticket-seller. Before that, Live Nation promoted shows but had no infrastructure to sell tickets, and it contracted out to Ticketmaster or others to sell them.
The Ticketmaster-Live Nation merger plan has drawn criticism. The Justice Department launched an investigation of the proposed merger in February.
Neither Live Nation nor Ticketmaster executives would respond to questions about the merger. However, Ticketmaster CEO Irving Azoff did talk about it before a U.S. Senate subcommittee earlier this year.
The merger "will give us greater flexibility in how we promote, market and sell tickets to events," he said. "It will give us a pathway to alternative pricing and fee structures. And we will be better able to develop new and innovative products and services that enhance the fan experience and make all forms of entertainment more accessible to everyone."
E-mail to a friend

CNN's Denise Quan contributed to this report.
All About Live Nation Inc. • Ticketmaster Corporation