(CNN) -- From street corners, buses and subways to phone calls, e-mails, text messages, online posts and tweets, people around the world commented, pondered, and paid tribute to pop legend Michael Jackson, who died Thursday afternoon in Los Angeles.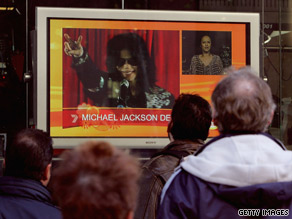 Pedestrians in Sydney, Australia, watch a TV screen announcing Michael Jackson's death on Friday.
Around midnight at London's Leicester Square, as news of Jackson's death spread, Luis Carlos Ameida and his friends were surrounding a car listening to the star's music.
Ameida said he'd gotten tickets to see Jackson at his "This Is It" concerts beginning on July 13 in London.
"From a young age, you know, I used to have the video game," said Ameida. "I used to have the white suit, and I'd wear it on my birthday. I used to moonwalk ... I remember my mum used to send me to lessons to be like Michael Jackson. And when I heard the news, I had tears in my eyes because of that connection I had because of all the songs he used to play."
In Glastonbury, southern England, where one of the world's largest music festivals was to kick off Friday morning, initial rumors and then confirmation of Jackson's death added to confusion and then shock among festival goers.

Watch British fans react »
"As I was walking back through the crowd it was the word on everyone's lips," Sally Anne Aldous, 29, told CNN over the phone.

Reaction from around the world in pictures »
Backstage, Michael Jackson songs were being played in tribute, and fans talked of an impromptu memorial for the late singer at the "Stone Circle," a neolithic monument in the grounds of the venue.
In Adelaide, Australia, Christos Winter of the MJ Fan Club had organized a petition to bring Jackson to tour there. "It didn't matter if you were 60, 40 or 20 like I am. Michael Jackson's music just spoke to everyone ... It was always uplifting and happy music," Winter told CNN.
On a street in New Delhi, India, 31-year-old Sachina Verma said on Friday, "Any of the baby boomer generation or, you know, people from my age or our time, I mean they have grown up on his music. Literally, people have been inspired by his dance movements, by his music.
Tributes appeared on YouTube and CNN's iReport.
"I remember growing up in the Middle East, influenced, enjoying his music, waiting for his albums," CNN iReporter Rany Freeman, an Egyptian living in Canada, said in a video submission. "Regardless to his strange behaviors or questionable events that happened to his life, let's remember him as the great entertainer he was."
Another iReporter, Peter Maiyoh, a Kenyan student studying in the U.S. city of Kansas, Missouri, called Jackson "the voice of change," saying "he was there before Tiger Woods, before Michael Jordan, even before Barack Obama ... I hope people remember him for the work he did."
On a Facebook page dedicated to Michael Jackson, fans across the world left hundreds of messages in languages ranging from French and Spanish to Japanese and Hebrew.

Watch fan reaction in Tokyo, Japan »
"SHANGHAI WILL MISS YOU! NOT JUST SHANGHAI!..EVERYONE IN THIS WORLD WILL MISS YOU! WE LOVE YOU MICHAEL!!!" wrote Vrishti Bhowmik.
Kase Ng, a 24-year-old manicurist and member of the Michael Jackson Hong Kong Fan Club, told CNN by phone she had been planning to go with four friends to his August 1 concert in London.

Watch fans in Hong Kong, China, react »
Expressing sadness and shock over Jackson's death, Ng recalled being inspired by an interview he once gave to Oprah Winfrey. "He said if you have power, try to give it back and help the others, and I will try to do that," she said.
At a music store in Beijing, China, Jackson songs were being played, and his albums were put on special display. "I rather enjoyed it (his music) because in my family my brother's generation likes his music," said customer Xu Wei. "Many, many people in China like him a lot." Watch reaction from around the world
Although Jackson never played in mainland China, his music was among the first in the West made available there, as the peak of his popularity during the 1980s coincided with the opening up of the communist country.
On Friday, Chinese netizens had set up a Web site memorial to Jackson, and on Fanfou.com, China's version of Twitter, the pop star has become the most popular tag.
Fanfou user Layla Suen, or "Leilajiang," of Shenyang city in Liaoning province wrote about her memories of Jackson: "When I was only four, my brother demanded that I learn his 'Thriller.' It was the second song I've ever learnt (the first one being something taught by the kindergarten teacher). Everytime I sing it at my kindergarten it would scare a bunch of little children."
Chinese blogger and media commentator Michael Anti wrote on his Facebook page: "So sad about Jackson's Death, for my English first name is really named after him when I was a freshman."
Ethan Zuckerman, a fellow of the Berkman Center for Internet and Society at Harvard University, tweeted in the hour after Jackson's death was announced, "My twitter search script sees roughly 15% of all posts on Twitter mentioning Michael Jackson. Never saw Iran or swine flu reach over 5%."

As Jackson's death quickly overshadowed all else Friday, commentators worried that the world would forget about political developments in Iran.
"Am I the only one who thinks that Michael Jackson's passing is the worst thing that could have happened to the protesters in Iran?" wrote Melissa Cohen, or mcohen00, on Twitter.
E-mail to a friend

CNN's Emily Chang, Jaime FlorCruz, Miranda Leitsinger, Mairi Mackay, Linnie Rawlinson and Bharati Naik contributed to this report.
All About Michael Jackson