By Alan Duke CNN





LOS ANGELES, California (CNN) -- Michael Jackson's three children asked to see their father's body in the UCLA emergency room after they were told he was dead, according to the lawyer for Jackson's personal doctor.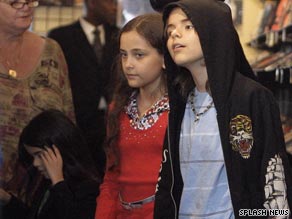 From left: Prince Michael Jackson II, Paris-Michael Katherine Jackson and Michael Joseph Jackson Jr.
"My understanding is that they did" see the body, attorney Ed Chernoff said.
On Monday, the children, ages 7, 11 and 12, were placed under the temporary guardianship of their paternal grandmother, Katherine Jackson, by a Los Angeles judge.
The biological mother of Jackson's two oldest children, Debbie Rowe, will be invited to a hearing next Monday in which the judge will consider who should have custody of them. She has, so far, not publicly indicated whether she will challenge the Jacksons for custody.
The Jackson family said it has not found a will for the singer, which would leave the division of his estate to the court.
The judge Monday also gave Katherine Jackson temporary control of her son's "tangible personal property."
No funeral plans have been announced for Jackson, although his father, Joe Jackson, said Monday the famed singer would not be buried at the Neverland estate. He also indicated the family would wait until they get the results of a second autopsy before holding a funeral. See the court papers (PDF file)
Los Angeles police detectives and Assistant Chief Coroner Ed Winter returned to Jackson's rented Holmby Hills, California, home to "recover some additional items as a result of our investigation," Winter said.
The investigators carried off medications, but Winter did not say what they were. Read supplement to court documents (PDF file)
Don't Miss
Chernoff -- attorney for Dr. Conrad Murray, who was at the home when Jackson collapsed -- responded to unsubstantiated reports that Jackson was given a shot of Demerol, a powerful painkiller, shortly before his death.

Watch police take drugs from Jackson home »
"Dr. Murray never prescribed Demerol, never administered Demerol, never saw Michael Jackson take Demerol, and that goes, as well, for Oxycontin," Chernoff said.
Murray was was not aware of any prescription drug abuse by Jackson, Chernoff said.

Watch Jackson's doctor denies prescribing Demerol »
"He had no reason to suspect that he had," Chernoff said. "Let's not rush to judgment here and say Michael Jackson was a drug addict. We don't know that."
Chernoff, known as a criminal defense lawyer, said Murray is not worried about criminal charges. Murray hired him because "one of the most famous men in the world literally died in his arms."
"We want to get to the bottom of it just like the family does," Chernoff said.
Murray rode in the ambulance with Jackson and worked with UCLA doctors in the efforts to revive him, Chernoff said.
He also was the one to tell the Jackson family gathered at the hospital that he was dead, Chernoff said.
When the children asked to see their father, Murray consulted with a psychologist for advice, Chernoff said, adding that it was his understanding the children did see the body.

Watch why the court is giving custody to Jackson's mother »
Since leaving the hospital Thursday, Murray has been available to meet with investigators and "he's not hiding out," Chernoff said.

The children are happy playing with other kids at their grandparents' home because they were never around other kids, according to Joe Jackson.
"We're going to take care of them and give them the education they're supposed to have," he said. "We can do that."
E-mail to a friend

CNN's Lindy Hall, Stan Wilson, Don Lemon and Ted Rowlands contributed to this report..
All About Michael Jackson