By Donna Brazile
CNN Contributor





Editor's note: Donna Brazile, a Democratic strategist, is founder of Brazile & Associates, a political consulting firm. On Tuesday, she watched Michael Jackson's memorial service as a longtime fan.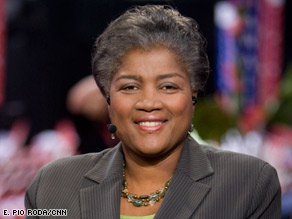 Donna Brazile says we will remember Michael Jackson's warmth and love for humanity.
(CNN) -- Tuesday was a day of celebration. A celebration of the life and legacy of pop icon Michael Jackson, his musical genius, his generosity and his humanity, and the love he shared with millions of people throughout the world. In the words of the poet Maya Angelou, who wrote a special poem for this day, "We had him."
Indeed, we had Michael in our sights. How many kids waited around on their 10th birthday to watch him and those other handsome men perform on "the Ed Sullivan Show" back in 1969. It was the highlight of my childhood.
Many of us have our memories of Michael Jackson. He was part of our childhood. We played his songs over and over -- at weddings and graduation. We loved the words behind the music because it formed a bridge that helped us transcend barriers and find our common humanity.
Michael was a healer who occupied a space in this universe no other singer or artist will ever dare fill. And he was part of a changing cultural landscape in the '70s, '80s and early '90s. Back then, some of us thought we could even marry Michael; all of us just wanted to be close to him. We wanted to dance with him, and we fought over who among us he would want the most. That was back then, and to this day, I treasure those memories.
There were nine Brazile kids. There were nine Jackson kids -- enough boys for my other siblings to allow me to dream of meeting Michael one day. And I knew something could happen if only we could meet. Fortunately, I did meet him once backstage before he performed at the opening ceremony for the Clinton-Gore inaugural event in 1993.
I also saw him in concert a few times, including in my childhood in New Orleans, Louisiana, when my mother, Jean, allowed me to skip a family vacation to Houston, Texas, just to see the man-child who had captivated me so much.
I bought every song and album by Michael Jackson that I could afford, and I still treasure all my original unscratched vinyl and those tunes now on my iPod.
It wasn't just the music, though. Michael could dance. My brother Teddy Man and I often performed at parties pretending to dance like Michael. Or as my Aunt Pinkney once said: "Watch how Michael dance. He can shake a tail feather."
We all wanted an Afro like Michael. We grew our hair like his. We threw away our hot irons and let it all go. We swayed to his rhythm and felt liberated. When he sang, we danced the joy of freedom. With the sudden death of Michael Joseph Jackson, that part of my childhood is definitively over but never forgotten. Never forgotten.
Michael Jackson and his amazing family came of age when many of us were still grieving over the tragic loss of the Rev. Martin Luther King Jr., Robert F. Kennedy and so many who encouraged us to fight for freedom and equality and to dream big. We felt the movement for change had ended. But Michael carried forth to help break barriers and bridge understandings.
Michael was the embodiment of love to me and millions of other fans across the globe who grew up wanting nothing more than to love him back. With his musical talent, he helped us transcend racial barriers. Colorblind in a world still struggling with issues of racial and ethnic strife, he tried to "heal the world" and bring people of all backgrounds together.
He popularized rhythm and blues for an entire generation and helped to shape a new cultural landscape in the United States. His music became our personal anthems. We could not only sing along with Michael, but we also tried to dance to his every beat.
Though not always perfect in his personal or public life, he still had an amazing impact on the world. Michael cared deeply and used that talent to help bring attention to famine and poverty in Africa.
I will remember the musical genius and the many gifts he shared with us. The gift of song, the gift of movement and the amazing gift of love through his generous support for his charitable causes.
Michael, we will remember you. We will remember your warmth and your love for humanity. And thank you, Michael, for leaving us music that will forever hold you dear in our hearts and dance moves that will continue to summon us to the dance floor.
May Michael Joseph Jackson now rest in peace.
The opinions expressed in this column are solely those of Donna Brazile.
E-mail to a friend

All About Michael Jackson