(CNN) -- Dionne Warwick was one of the thousands of guests to attend Michael Jackson's memorial service Tuesday at the Staples Center in Los Angeles, California.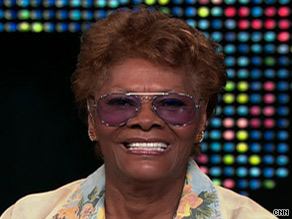 Dionne Warwick said Michael Jackson brought a new insight to things people should be paying attention to.
Warwick talks with CNN's Larry King about the moving tributes during the service and the legacy left behind by the "King of Pop."
King also talks with Warwick's son, Damon Elliott, who has been a friend of Jackson's since childhood and was writing a song with Michael just before his death.
The following is an edited version of the interview.
Larry King: What did you think of the event, Dionne?
Dionne Warwick: Well, it was probably one of the most emotional mornings and afternoons that I've spent in a very long time. It was done with a great deal of style and class.
King: He would've liked it?
Warwick: He would've loved it. He would've loved it.
King: How did you and Michael hook up, Damon?
Don't Miss
Damon Elliott: From Mom. We shared moms. When I was very little, I used to beg her probably at least once a week, "Mom, you have to take me out to the house, you have to take me out to the house." She'd always say, "I'm on tour right now, baby. But when we I get home, we'll go see Michael." And one day we did, and he showed up, I think, in my living room or somewhere.
King: You were writing a song at his death?
Elliott: Yes. Actually, I was working on some music for the new record that I was going to get over to Jermaine. And the night before he passed away, it's crazy we were writing a song.
King: How great a singer was Michael Jackson?
Warwick: Michael was...
King: A singer -- a pure singer?
Warwick: And he could sing. Yes. Yes. It was more than the magic of everything else that he did. He was a brilliant singer.
King: What was he like to work with, if you were working on a song together? What was that experience like?
Elliott: Well, from a distance, I got to work with Michael. I mostly worked through Jermaine, who was another amazing talent. But just all the brothers, you know, they have so much conviction and so much feeling in their delivery.

Watch Jackson family address crowd »
And Michael was like the greatest teacher to all of us -- producers, dancers, singers, songwriters. He just had it all. He would come in and beat box a melody and you'd try to emulate it on a drum machine and it just was impossible. So you'd just keep what he did.

King: What's Michael Jackson's legacy?
Warwick: The wonderful things that he did for this entire world. I think he brought a new insight as to the things that we really should be paying attention to. He did it brilliantly, and I think that's his legacy.
E-mail to a friend