By Alan Duke
CNN





LOS ANGELES, California (CNN) -- Dr. Conrad Murray, the physician under investigation in the death of singer Michael Jackson, said in a video posted online Tuesday that he has "faith the truth will prevail."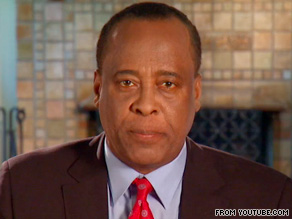 In Dr. Conrad Murray's video, posted on YouTube, he tells supporters he has been receiving their messages.
Murray, who was with Jackson when he died, recorded the one-minute video in Houston, Texas, on Wednesday and it posted on YouTube Tuesday, the spokeswoman for his lawyer said.
"I have done all I could do," Murray said. "I told the truth, and I have faith the truth will prevail."
The video is the first public comment by Murray since Jackson's June 25 death.
"I want to thank all of my patients and friends who have sent such kind e-mails, letters and messages to let me know of your support and prayers for me and my family," Murray said.

Watch the statement from Jackson's doctor »
"Because of all that is going on, I am afraid to return phone calls or use my e-mail. Therefore, I recorded this video to let all of you know that I have been receiving your messages," he said.
Murray, a cardiologist, owned and operated two medical clinics -- in Las Vegas, Nevada, and in Houston -- but he took a full-time job as Jackson's personal doctor in May as the pop singer prepared for his comeback concerts scheduled to start in July.
He was at Jackson's Los Angeles home when the entertainer was found unconscious and rushed to a hospital.
Don't Miss
Investigators have searched Murray's home and clinics for evidence related to the anesthetic propofol, according to documents filed in court. A source close to the investigation told CNN that Murray is believed to have administered the drug -- also known by the brand name Diprivan -- to Jackson within 24 hours of his death.

Murray has been "under siege" by the media and targeted by death threats in recent weeks, according to the spokeswoman.
"I have not been able to thank you personally, which, as you know, is not normal for me," Murray said in the video. "Your messages give me strength and courage and keep me going. They mean the world to me. Please, don't worry. As long as I keep God in my heart and you in my life, I will be fine."
E-mail to a friend

All About Michael Jackson • Conrad Murray