By Dean Irvine
CNN





MACAU, China (CNN) -- There are no downsides to fame, said Lady Gaga, the singer and currently one of the hottest things in pop.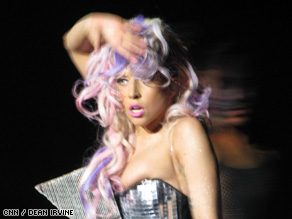 Going Gaga on stage: "You will never know me unless you see me live."
For someone whose debut album called "The Fame" has reached No. 4 in the Billboard charts and has two of the year's biggest selling singles, it's not a surprising statement.
But talking in Macau before her final concert of her Asian tour, it seemed that if not fame itself, its handmaidens -- media scrutiny and touring -- might be taking their toll on the 23-year-old.
Gaga (real name Stefani Germanotta) arrived for the interview backstage at the Venetian Hotel's concert arena suitably attired; wrapped in a Vivienne Westwood outfit and propped up in enormous Galliano heels. With gargantuan shades covering half her face, the avant-garde fashionista image was intact.
"I'm sort of a musical pop music misfit," she said in her slow New York drawl, and "a relentless bitch" in response to how she had got to the top of the music industry.
She claims Lady Gaga is not a persona and it seems she is committed to living as closely to the wild fantasy shown in her videos. More at home on the stage than in the interview chair --"We could sit here and talk, but you will never know who I am unless you see me live" -- even Gaga's faithful make-up artist (in attendance throughout the interview) thought she was crazy because she sleeps in her wigs.
Was it to keep the persona up, stay in character? No, "I just like wigs," she said with an unintentional comic deadpan.

View the behind the scenes photos and on-stage outfits of Lady Gaga in Macau »
She's gone from art school dropout performing in clubs in the Lower East Side of Manhattan to the edge of global stardom with her infectious dance tunes and an intriguing and outlandish image. It's an image that has been carefully concocted; part performance artist, part sexualized pop automaton who feeds on pop culture iconography, digests and adapts it.
"Tabloids were my text books, I'd tear out pages. I embrace pop culture; everything that people say is poisonous, ostentatious and shallow. It's like my chemistry book. I look though everything and make what I believe is art out of it," she said.
On TV: Show times
Wednesday, Sep 16: 1330 GMT (2030 Hong Kong)
Thursday, Sep 17: 0400 GMT (1100 Hong Kong)
Saturday, Sep 19: 0530, 1530, 1930 GMT (1230, 2230, 0230 Hong Kong)
Monday, Sep 21: 0300 GMT (1000 Hong Kong)
Tuesday, Sep 22: 1630 GMT (2330 Hong Kong)

Assisting in her pop alchemy is the Haus of Gaga, her inner circle that encompasses designers, producers and those she's close to. As well as her make-up artist, her manager was also in close attendance during the shoot. While we weren't allowed a further glimpse into the "Haus," her coterie exhibited tendencies more like a support group than put-upon workers dealing with diva demands.

If fantasy has a prominent place in the world of Gaga, then the amorphous idea of fame is running the show. She name-checked pop artist Andy Warhol as an inspiration for the way he made commercial art as respected as fine art. No mention was made on his ideas on the fleeting nature of fame itself.

"Ambition and longevity are in my blood," she said, and having written the songs on "The Fame" as well as tunes for Britney Spears and The Pussycat Dolls, she has the musical talent to elevate her above the industry's disposable pop starlets.

"I must remain prolific and relevant... but equally irrelevant," she said as a gnomic strategy for maintaining success. But great anecdotes about how she came up with certain ideas for costumes that involved running around the woods naked in Hawaii sounded more like a real person and less arch.

Yet her contention that fame can do no wrong was shaken by one question at the end of the interview. Aware that more people wanted to know more about her the longer she's in the public eye -- "I find I'm being probed a bit more" -- Internet rumors have been spreading.

While helpful for fueling media interest and the enigma of Lady Gaga, among the most fantastic things circulating out there is that she's a brain-washed puppet of the Illuminati, another is that she is a hermaphrodite. The question was asked how does feel when she reads things like the latter.

The atmosphere changed.

"I'm not even going to answer that," was her response after a protracted pause, while off camera her manager expressed shock at the question, demanding it not be aired (a demand she later retracted only after plenty of discussion).

Gaga herself said the cameras should be turned off, the interview over. They weren't and it wasn't. Things were quickly, if uncomfortably, smoothed over for the sake of one more question to "end on a positive note," according to the manager.

Composure regained, "You can ask me about scrutiny, but I'd prefer if you didn't..." Gaga said.

Was the reaction a studied response to fuel more controversy? It didn't seem so, it was personal and had struck a nerve. Yet her response to the reworded question on scrutiny was like a switch had been flicked and she was back on message:
"There are no downsides," she said before launching into slightly an anecdote that involved getting advice from Grace Jones while she washed her feet.
E-mail to a friend