NEW YORK (CNN) -- Adam "DJ AM" Goldstein's death last month was an accident caused by "acute intoxication" from a combination of cocaine and prescription drugs, the New York medical examiner said Tuesday.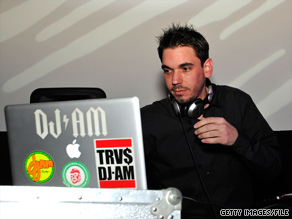 Adam "DJ AM" Goldstein died from an accidental overdose, the New York medical examiner says.
Goldstein's body was found August 28 in his New York apartment with a crack pipe nearby and a half bag of crack cocaine and prescription drugs in the home, a police source told People.com.
His death came almost a year after he survived a plane crash in South Carolina that killed four other people. Goldstein and Travis Barker, the drummer for rock band Blink-182, were critically injured in the crash.
The medical examiner said Goldstein, a self-described crack cocaine addict, died from an accidental overdose due to the combined effects of cocaine, Oxycodone, Vicodin, Ativan, Klonopin, Xanax, Benadryl and Levamisole, a drug used to cut cocaine.
The 36-year-old DJ and entrepreneur had 11 years of sobriety before his death.
Don't Miss
At the time of his death, he'd been working on an MTV show about drug addiction that had been scheduled to debut in October. He said his experiences as a recovering addict inspired him to do the project.
A MTV spokeswoman said Tuesday that the network has not made a decision on whether or when "Gone Too Far" would air.
After he survived the fiery plane crash that left him in need of skin grafts, Goldstein told People.com that he had a nurse dispense pain medication.
But the emotional aftermath of the crash also caused him great pain, he said.
"Daily I live with the guilt and grief of what happened that night, what I saw, who was lost and why I was spared," he wrote in a December post on his Web site. "I have no words to express the pain that comes with knowing four people died, while I lived."
In addition to spinning beats at clubs and festivals, Goldstein was known for dating reality TV star Nicole Richie and actress Mandy Moore.
E-mail to a friend

CNN's Marc Balinsky contributed to this report.
All About Drug Addiction • Celebrity News