(CNN) -- Singer Stephen Gately, a member of the Irish band Boyzone, died of natural causes, a court spokeswoman on the Spanish island of Majorca said Tuesday.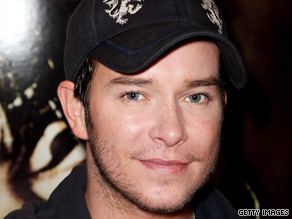 Stephen Gately died Saturday while he and his partner were visiting the Spanish island of Majorca.
The court spokeswoman, who by custom is not identified, said Gately, 33, died Saturday of acute pulmonary edema, according to preliminary autopsy reports.
There was no sign of violence in his death, the spokeswoman said.
The judge has authorized Gately's family to transfer the body out of Spain, the spokeswoman added.
According to the Mayo Clinic, pulmonary edema is caused by excess fluid in the lungs. The fluid collects in the lungs' air sacs, making it difficult to breathe.
Gately's partner, Andrew Cowles, testified before an investigating magistrate for about 15 minutes Tuesday, while the autopsy was conducted nearby at the island's forensic institute, the court spokeswoman said.
Authorities will send samples from the body to a laboratory in Barcelona. Meanwhile, the court will hear testimony from other witnesses, the court spokeswoman said.
The case will be shelved judicially only after the definitive laboratory results have been received, confirming the presumed natural death, the spokeswoman said. Health Library: What is pulmonary edema?
In a statement on the Boyzone Web site, Gately's fellow bandmates, Ronan Keating, Keith Duffy, Mikey Graham and Shane Lynch said: "We are completely devastated by the loss of our friend and brother, Stephen. We have shared such wonderful times together over the years and were all looking forward to sharing many more.
Don't Miss
"Stephen was a beautiful person in both body and spirit. He lit up our lives and those of the many friends he had all over the world. Our love and sympathy go out to Andrew and Stephen's family. We love you and will miss you forever, 'Steo.' "
Boyzone made history in the United Kingdom with 16 consecutive Top Five hits, according to Ticketmaster's Web site. It's one of Ireland's best-selling bands, with six No. 1 singles in the United Kingdom, and four No. 1 albums, Ticketmaster said.
The group, which separated in 2000 to pursue solo projects, reunited in 2008. Its greatest hits album -- "Back Again ... No Matter What" -- was released last year.
Gately joined the band in 1993 after answering an audition ad.
"A lot of people didn't think we would make it out of Ireland back then," he said previously on the group's Web site. "We were overwhelmed when Boyzone began to take off, it was incredible."
E-mail to a friend

CNN's Al Goodman contributed to this story.
All About Music