By Todd Leopold
CNN





(CNN) -- Matt Groening laughs -- a lot.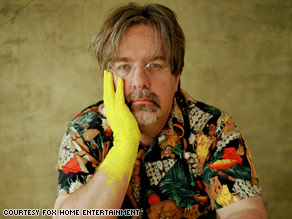 Matt Groening is still having fun with "The Simpsons," but "Life in Hell" may be fading away.
Sometimes it's a chuckle of uncertainty, as when he talks about the fact that his weekly comic strip, "Life in Hell," is being dropped by its flagship newspaper, LA Weekly, after 22 years. Sometimes it's a snort of mischief, as when he describes working with "Family Guy" creator Seth MacFarlane, with whom he allegedly has a feud.
But mostly it's a big, rollicking guffaw, the sound of a man who still can't quite believe how much fun he gets to have at work -- work that includes "The Simpsons," still going strong after 20 years, "Life in Hell" and "Futurama."
It's the latter that's the ostensible reason for a phone interview with Groening. "Futurama," which aired on Fox from 1999-2003, then in reruns on Cartoon Network and Comedy Central, has apparently concluded its run with a new DVD movie, "Into the Wild Green Yonder" (Fox Home Entertainment), which came out Tuesday.

See a clip from the new "Futurama" »
As with the three previous "Futurama" DVD films -- "Bender's Big Score," "The Beast with a Billion Backs" and "Bender's Game" -- "Yonder" will be split into four parts and aired on Comedy Central, which has the rights to the series. But Groening's not willing to say goodbye -- yet.
"We have a great relationship with Comedy Central and we would love to do more episodes for them, but I don't know. Maybe," he said. "I think one of the factors will be how well this DVD sells, because of these troubled times where everybody's gnashing their teeth and biting their nails."
Matt Groening
Born: February 15, 1954 (age 55), Portland, Oregon

Parents: Homer and Margaret

Projects: "Life in Hell" (debuted in the Los Angeles Reader, 1980); "The Simpsons" (debuted as segments on "The Tracey Ullman Show," 1987); "Futurama" (debuted on Fox, 1999).

Honors: 11 Emmy awards (10 for "The Simpsons," 1 for "Futurama"); 2002 Reuben Award from the National Cartoonists Society (for "The Simpsons").

Among "Futurama's" literary influences: Robert Heinlein, Philip K. Dick, Cordwainer Smith, Theodore Sturgeon, Robert Sheckley: "the funny [science fiction] guys, the guys who have a sense of humor," he told Mother Jones in 1999.

Sources: Internet Movie Database, National Cartoonists Society, Mother Jones

Along with "Futurama," Groening ("rhymes with 'complaining,' " as he's often pointed out) also talked about "Life in Hell," "The Simpsons," MacFarlane and pretty much anything that tickled his fancy. The following is an edited version of the interview, with some laughs included.

CNN: I feel like Comic Book Guy talking to Jack Kirby -- or perhaps Jack Davis.

Matt Groening: (huge laugh) Well, I've met both of them -- Jack Kirby and Jack Davis! They're both heroes of mine. So I can relate. They're definitely part of my pantheon of great artists.

CNN: Let's move over to "Futurama." Is this the end?

Groening: We hope not. If it is, we feel we're offering an emotionally satisfying conclusion to this epic science fiction saga. But we did leave the door open just a bit in case we get renewed. iReport: Tell us your favorite "Futurama" moments

CNN: Is that in the offing?

Groening: We're having discussions and there is some enthusiasm but I can't tell if it's just me. (laughs)

CNN: With all the insider references in your work, do you still think of yourself as a subversive in an industry that doesn't exactly prize subversiveness?

Groening: I don't know how subversive you can be when you've been on the air as long as we have. But we try to sneak some stuff in here and there, and gladden the hearts of sensitive viewers. ...

I always thought that television was the way to go in my goal to invade pop culture (laughs) because it got to towns in which there were no bookstores. That's how I used to think of it: How do I reach kids who not only don't read but probably have no access to much in the way of books?

And "The Simpsons" basically -- and "Futurama" -- are really smart shows. They're kind of disguised as these goofy animated sitcoms, but the references within the shows, if you're paying attention, are pretty smart and pretty sophisticated. And if you don't get it, it's OK -- you have a nice entertainment experience -- but if you've gone to college and seen a few movies, you can appreciate the shows on a much more satisfying level. Listen to Groening talk about his recent favorite films

CNN: How did the plot to this film come together?

Groening: The set of four movies were done by the core writers of "Futurama" headed by David X. Cohen ... [who's been] my partner on "Futurama" from the very beginning. We [planned] these four movies -- one was time travel, next was sword-and-sorcery, third was a space monster movie and the last one is a grand ecological science fiction epic which also has some emotional payoffs for the characters if you've been following the series from the beginning. ...

In a way there was a checklist component to this -- well, let's do this, we haven't done that yet -- and then just great ideas. Ken Keeler, who wrote the script, is very, very smart, and very rarely will concede a factual point, even if it means that we (laughs) postpone getting work done for hours. (laughs) And when you have writers as smart as the "Futurama" writers, you can waste two days on scientific tangents. Listen to Groening talk about the writers' cleverness

CNN: Seth MacFarlane has a role in this.

Groening: Oh yes! That was a real treat to work with Seth and confound the people who want to believe there's some kind of feud between Seth and myself.

CNN: How do you feel about the children of "The Simpsons" -- MacFarlane's "Family Guy," "South Park"?

Groening: I'm a fan of animation and so, the more stuff that doesn't look like the other stuff that's out there, I'm in favor.

There's a staggering array of completely wild animation on TV now ... Adult Swim on the Cartoon Network is unbelievable. And "South Park" continues to do great stuff. And "Family Guy" and the various other Seth MacFarlane projects are amazing.

And I want more. Good! Cartoons! Cartoons that don't look like anything else. Very good. Listen to Groening talk about the animation boom

CNN: To the root of animation, cartooning: You're still doing "Life in Hell," correct?

Groening: Um, yes, but ... well, I feel like the floodwaters are rising.

CNN: Really?

Groening: Yeah, the alternative newsweeklies are really struggling. In fact, this coming week will be my final week after 22 years in the LA Weekly. I and all the other cartoonists are being dismissed because they can't afford to pay.

We'll see. I'm still in a bunch of other papers, so I may continue to do my strip, but it doesn't look good. Listen to Groening talk about the poor treatment of comics

CNN: Have you considered just doing it online?

Groening: Yes! Yes, I'm toying with that. But it's very strange. I've been doing the weekly comic strip for 29 years, "The Simpsons" weekly for 20 years, the "Futurama" weekly for five years and then a little break and then the four movies, and then the "Simpsons" movie, ... so I have a series of ongoing deadlines. So the idea of establishing a Web presence that I'll have to feed on an ongoing basis doesn't give me a lot of pep. (laughs) One more treadmill.

CNN: Let me finish with the traditional "Simpsons" question: Is it going to continue for the foreseeable future?

Groening: Yes. I'll be surprised if we close up anytime soon. I don't see it. The popularity of the show all over the world continues and it is gratifying, and the show's still fun to do. That's always been my ultimate deciding factor: Is it still fun? And it is. ... I get to go in and listen to these brilliant actors make funny lines written by geniuses even funnier. It's a totally entertaining experience from my point of view -- in the middle of it.

(Fox announced on Thursday that it has ordered two additional seasons of "The Simpsons.")
Cartoon Network is a unit of Time Warner, as is CNN.
E-mail to a friend