NEW YORK (CNN) -- The venerable CBS soap opera "Guiding Light" will go dark in September after 72 years and 16,000 episodes, the network announced Wednesday.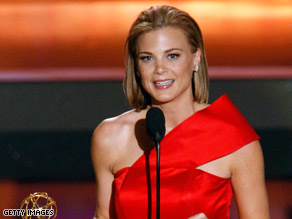 Gina Tognoni is one of many performers who have appeared on "Guiding Light" over the years.
The daytime drama's declining viewership led to the decision, according to a CBS spokeswoman.
The show, which the Guinness Book of World Records lists as the longest-running television drama, first aired on NBC radio in 1937 as a 15-minute serial, the spokeswoman said.
It moved to television on the CBS network in 1952 as 15-minute drama. It later went to 30 minutes, and on November 7, 1977, it expanded to one hour and introduced the wealthy Spaulding family as foils to the show's middle-class Bauers, who were a mainstay of the show for much of its run.
In 1979, the show did a groundbreaking storyline when the character of Roger Thorpe (played by the late Michael Zaslow) raped his wife, Holly (Maureen Garrett).
The marital-rape story line reflected a significant real-life case in 1978 -- the state of Oregon v. John J. Rideout. It was the first time in modern U.S. history that a man was charged with raping his wife and then put on trial. It prompted national debate about whether a man had absolute sexual rights with his spouse. Rideout was acquitted.
Among the actors who went on to greater fame after roles on the show: Kevin Bacon, James Earl Jones and Taye Diggs.
The last episode is set to air on September 18, the spokeswoman said. The show is produced in New York.
E-mail to a friend

All About Soap Operas