LOS ANGELES, California (CNN) -- Kate Gosselin, the star of TLC's "Jon & Kate Plus 8," defended her husband over allegations that he is cheating and said the rumors are part of being on national television.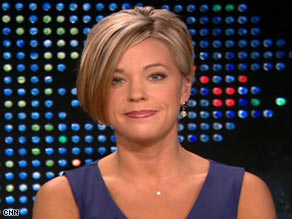 Kate Gosselin, star of "Jon and Kate plus 8," says rumors surrounding her husband are part of being a public figure.
"We, as you know, have a reality show. Everyone wants to know everything about us," Gosselin told CNN's Larry King on Thursday. "And I feel like this is a situation, you know, you can't believe everything that you read ... and so we are dealing with it privately."
Kate Gosselin, her husband, Jon, and their eight children are featured on the TLC reality show, which chronicles the life of the supersized family. Kate Gosselin is also the author of a book, "Eight Little Faces: A Mom's Journey."
Tabloid reports have accused Jon Gosselin of cheating with a 23-year-old. Both have denied an affair.

Watch Kate talk about cheating rumors »
"These allegations are false and just plain hurtful," Jon Gosselin said in a statement. "The bottom line is, I did not cheat on Kate. I'm sorry for putting my family in this awkward position, given some poor decisions and bad judgments I've made recently."
The poor judgments stem from the fact that Jon Gosselin does not understand the full impact of being a public figure, Kate Gosselin said.
"Jon is having difficult times realizing that you can't go to the grocery store without people whipping out their cell phones, calling everyone they know and taking pictures of you," she said. "He is dealing very poorly with it ... and these things are making him realize, 'Oh, my gosh, I cannot go anywhere without everyone knowing who I am.'" Watch whether Kate has doubts

The couple married in 1999 after meeting at a picnic in 1997, according to their Web site.

The mother of sextuplets and twins said she and her husband are committed to their family.
"I think the important thing to remember is that we love our kids to pieces," she said.
E-mail to a friend

All About Jon Gosselin