By Lisa Respers France
CNN





ATLANTA, Georgia (CNN) -- Thousands of people showed up at the Georgia Dome in Atlanta on a muggy June morning with stars in their eyes -- and not just because they arrived before dawn.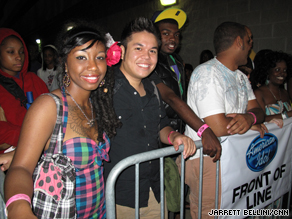 Crowds gathered at the Georgia Dome in Atlanta as the search for the next "American Idol" began.
A snaking line of wanna-be "American Idol" contestants angled for their chance in the spotlight, with the hopes of becoming a season-nine semifinalist on the popular show.
They primped, they rehearsed and they made sure to smile, squeal and cheer enthusiastically for the Fox network cameras there to catch every single moment of the adventure.
"I've been singing since I could talk," said 16-year-old Priscilla Gray, who made it to the front of the line after driving five hours with her dad, Tommy E. Gray, from Randleman, North Carolina, and camping out in their car overnight. "I'm not nervous, but it may not have hit me just yet."
Gray needed that confidence because she faced some stiff competition.
Patrick Lynn, "Idol's" supervising producer, said more than 8,000 people were expected at the Atlanta auditions.
Two dozen representatives of the show would screen the performers and the chosen ones would move on to a later round where they would sing for a group of executive producers, Lynn said.
Those who survived that cut would ultimately get their shot to sing for the show's celebrity judges, he said.
Lynn wouldn't comment on whether all or any of the judges from last season -- Simon Cowell, Paula Abdul, Randy Jackson and Kara DioGuardi -- would be returning next year, but he did say producers haven't changed what they are looking for: talent and originality.
"For me, as a producer, the things that separate a singer from a star are confidence, originality, being able to hold your own and not being intimidated by the group," Lynn said.
A hopeful might also consider avoiding the Etta James classic "At Last," which Lynn said is one of the most popular "Idol" audition song choices.
"I wouldn't say that we don't like hearing ["At Last"] sung, it's just that we like hearing it sung well," Lynn said.
It's a long road to the ultimate destination of the semi-finals in Hollywood and Atlanta was the second city stop in a tour of seven cities, including Boston, Massachusetts; Chicago, Illinois; Dallas, Texas; Los Angeles, California; Denver, Colorado; and Orlando, Florida.
Those who auditioned in Atlanta were happy to sing, though not all sang well, for the multitudes of cameras present to document the experience.
Many had family and parents in tow for support and more than one anxious mother helped their superstar run though lyrics and apply makeup.

Watch "Idol" hopefuls at the auditions »
Lucida Parrish of McDonough, Georgia, rattled off a multitude of musical activities and achievements as her 17-year-old daughter, Emily, tried not to look too discomfited.
Asked if Lucida was a "stage mom," Emily answered with a definitive "Yes!" before her mom could chime in.
"But not like she pushes me or anything," added Emily, who has wanted to audition for "American Idol" since she was 10 years old.
"I'm there to support, but never push," her proud mother said.
Jason Perez, a 25-year-old power company employee said he had never even watched "American Idol," but gave in to his friends' urging to try out.
He stood in line with his girlfriend, Lauren Crossman, and said he was prepared for what fame might bring if he realized his dream to become a professional singer.
"Hopefully it will pay the bills," Perez said. "I want to entertain my friends and family and make them happy."
After several sweaty and anxious hours, a steady stream of dejected performers emerged from the Dome, including a woman looking like a runaway bride in a wedding gown who covered her face with a bag and declined to speak with the media.
There were tears, jeers and the lots of cell phone calls back home to break the bad news.
"It's all a matter of look," said 25-year-old college student Julie Scott, who traveled from Nashville, Tennessee. She said judges tried to be kind in their rejection. "I saw a lot of really talented people get shut down."
Sixteen-year-old Kayla McQuillan was undaunted despite having to return to Pittsburgh, Pennsylvania, without moving on in the competition.
"I'm sad, but there's always next year for me if I decide to come back," the cowboy-hat wearing ingénue sighed. "You only got about 30 seconds to sing."
Not everyone left disappointed.
Drake Johnson, a strapping 16-year-old from Florence, South Carolina, carried his acoustic guitar and the hopes of his family and friends into the auditions.
His mother, Sherry Nordine, beamed after learning that her baby would be moving on to the next round.
"I'm so very happy for him," she said, choking back tears. "It's been a long road and this is a gift that is just in him."
Drake said he hadn't really watched "Idol" last season until one day he was in his room and heard Kris Allen, who ultimately won the competition, perform "Heartless."
The teen obviously hoped for some of Allen's good fortune to spill over to him as Johnson chose to perform both "Heartless" and Jason Mraz's "I'm Yours."
"Kris Allen, he's like my style," said Johnson, who like the "American Idol" champion performs with his church. "I definitely want a career in music."
One person who remembers that sense of excitement is season eight finalist Alexis Grace, who was on hand as a correspondent for TV Guide Network's "Idol Tonight."
Grace made it to the top 11 before she was voted off the show and said her life has changed immeasurably since that long, hot day last year when she auditioned in Louisville, Kentucky.

The petite blonde, who had been an early favorite in the competition, had a few words of advice for those who made it through.
"Be confident and stay true to yourself," she said. "Know who you are as an artist and just go out there and belt it."
E-mail to a friend

All About American Idol • Simon Cowell • Music • Atlanta