(CNN) -- The following is roundup of reactions to the death of actress Farrah Fawcett, as compiled by The CNN Wire. Fawcett died Thursday, after battling cancer.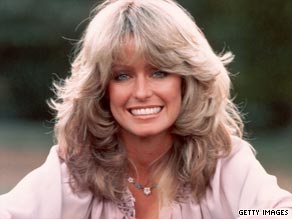 Ryan O'Neal said family and friends "take comfort in the beautiful times that we shared with Farrah."
She was 62.
• Ryan O'Neal, Fawcett's longtime companion: "After a long and brave battle with cancer, our beloved Farrah has passed away. Although this is an extremely difficult time for her family and friends, we take comfort in the beautiful times that we shared with Farrah over the years and the knowledge that her life brought joy to so many people around the world."
• Alana Stewart, her longtime friend: "There are no words to express the deep sense of loss that I feel. For 30 years Farrah was much more than a friend, she was my sister, and although I will miss her terribly I know in my heart that she will always be there as that angel on the shoulder of everyone who loved her." Obit: Farrah Fawcett, 1947-2009
• Jaclyn Smith, who co-starred with Fawcett in the TV series "Charlie's Angels": "Farrah had courage, she had strength, and she had faith. And now she has peace as she rests with the real angels."
• Cheryl Ladd, who became the third "Angel" in the series after Fawcett left after the first season: "I'm terribly sad about Farrah's passing. She was incredibly brave, and God will be welcoming her with open arms."
Don't Miss
• Craig J. Nevius, the executive producer and director of "Farrah's Story" and "Chasing Farrah": "Farrah was and is the true definition of an 'icon.' She was of her time but transcended her time. As unique as her name, Farrah was a completely original combination of poster girl, serious actress, tabloid celebrity, role model, talk show personality and social advocate: her career spanned more than four decades and personified the tremendous power and influence of entertainment on our culture.
"Not many stars can be credited with inspiring both a hair style and changes in legislation (surrounding domestic violence and more recently patient privacy). And she did it without posturing or campaigning but by simply choosing her own path and making her own rules. Farrah remained relevant to the very end. She will be remembered as the modern Mona Lisa and so much more."
• Robert Duvall, who directed and starred in "The Apostle" with Fawcett: "Farrah had an outstanding talent, better than most feature-film actresses that I've seen. She was great to work with and will be missed."
• George Hamilton: "She was the strongest woman I ever met who fought this battle for three years to the end. She never felt sorry for herself, and was the sweetest and kindest lady. I will miss her. "
• Tori Spelling: "Farrah was an inspiration to all and had the most amazing spirit. She was one of the kindest, sweetest, and funniest women of I've had the privilege of knowing and I'm proud to have called her a friend. Her smile will be greatly missed. My thoughts are with her family."
• Chevy Chase, who appeared with Fawcett in the 1995 movie "Man of the House": "Farrah was more than a beautiful star. She shared the most intimate part of living with the world even as she approached the end of her own life.
"Graceful in life and graceful as she neared the end, I found working with her to be one of the nicest experiences I've ever had in film."
• Jackie Collins: "Farrah Fawcett was a beautiful, talented and thoughtful friend. When she starred in my movie 'Hollywood Wives - The New Generation,' she was the consummate professional, sometimes working until 2 a.m. She was a shining light in Hollywood, and she will be missed by all who knew her."

• Elizabeth "Terry" T.H. Fontham, American Cancer Society national volunteer president: "We are saddened at the news of the passing of Farrah Fawcett. Ms. Fawcett served as the American Cancer Society's chairperson for Women Against Cancer in the early 1980s, appearing in a public service announcement where she encouraged viewers to avoid smoking and get regular cancer checkups. Her public battle against cancer these past few years is a reminder of the work still to be done, and of the toll cancer still takes. Her support of those efforts, and her unique approach to life, will be missed."
• Marie Osmond: "Farrah debuted on the original 'Donny and Marie' show with Lee Majors from 'The Six Million Dollar Man.' Standing next to this stunningly gorgeous woman as a teenager, there was no doubt in my mind that she was going to be a 600-million-dollar star. Many people have since asked me: Was Farrah as beautiful in person? The answer is yes. And the courageous way she handled the trials in her life proves she was not only beautiful outside but inside as well."
E-mail to a friend

All About Farrah Fawcett