By Lisa Respers France
CNN





(CNN) -- When chef Wheeler Del Torro found out that singer Erykah Badu was a vegan, he knew he had to get her his ice cream.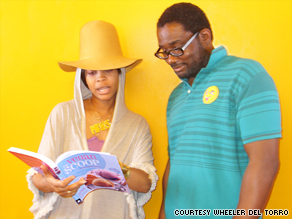 Singer Erykah Badu is a fan of chef Wheeler Del Torro, who creates custom vegan ice cream.
The founder of Wheeler's Frozen Dessert Company, Del Torro creates custom vegan flavors that have attracted a pretty cool fan base, including a few rappers who have indulged in his $7,000 champagne flavor, made with vintage Dom Perignon and sprinkled gold flakes.
After reading about Badu's vegan lifestyle, Del Torro shipped her some of his product. When fate found them both in the same city, he jumped at the chance to meet her.
"Teaming up with someone like [Erykah] is something that is definitely good for outreach to vegans and non-vegans, because she has such mass appeal," said the author of The Vegan Scoop.
In a culture seemingly obsessed with both celebrity and food, the melding of the two can be a powerful force.
Having a celeb as a muse, friend or investor can raise a chef's profile tremendously, and likewise, stars seem to enjoy being part of the foodie culture.
Celebrities fascination with the culinary world has played a big part in Hollywood long before Meryl Streep transformed herself into Julia Child for the hit film "Julie & Julia."
Some restaurants have made a name for themselves due in part to relationships, such as the love affair the late Frank Sinatra had with Patsy's Restaurant in New York.
Now, stars like Robert De Niro, Ashton Kutcher, Justin Timberlake, Eva Longoria and Jay-Z have created their own hot spots where they never have to wait for reservations.
"Food is also a great way of sharing your culture and your passions: in essence, a way of sharing yourself," said Annika Stensson, director of Media Relations for the National Restaurant Association. "Celebrities are, of course, used to the latter, so creating a restaurant concept around their favorite food or fond food memories is a logical extension of that."
Josh Friedland, editor and publisher of the blog the Food Section, said some chefs are now as well-known as some of their star friends.
"Celebrity chefs have become so glamorous and become celebrities in their own right," he said. "They have similar experience to the celebrities they meet and are probably traveling in some of the same circles."
And since the famous love to rub shoulders with their own kind, it's no surprise to find celebs and chefs hanging out together.
Food Network star Paula Deen recently appeared on Bravo's "Kathy Griffin: My Life on the D-List," and famous foodie and Academy Award winner Gwyneth Paltrow ate her way through Spain last year with a group including chef Mario Batali for the PBS series "Spain: On the Road Again."
It was an unlikely pairing for the uber-healthy actress, who has discussed detoxing on her Web site, Goop, and the chef known for his love of pork fat.
Lynne Rossetto Kasper, host of American Public Media's "The Splendid Table" radio show, said Paltrow more than held her own as a vegan "who roamed Spain with two of the most voracious omnivores you could ever possibly imagine."
"Food has become theater; it's become entertainment," said the radio host, who has had celebs on her show. "I think that part of being smart these days is knowing something about food; not necessarily cooking, but knowing enough to say there's a hole-in-the-wall restaurant that is serving a fabulous cuisine most of us haven't tried for like $10 a person. It's that kind of being in on something that is esoteric in one way, yet is something that we all do."
And the public doesn't seem to be waning in its appetite.
The Food Network has seen double-digit increases in its ratings for the past years, said Bob Tuschman, senior vice president of programming and production, and is now in nearly 100 million homes.
The network has almost single-handedly given rise to the concept of the "celebrity chef," and Tuschman said many stars have approached the network, wanting to be a part of "must-eat TV."
"For most of them, it's actually somewhat a negative to be a celebrity, because our viewers view the chefs we have turned into stars as celebrities, so when they see a celebrity, they think 'Oh, their expertise is not in food; it's in singing or acting,' " he said. "I think our viewers are a little suspicious of people from the entertainment world."
Tuschman said that once in a while someone comes knocking who amazes the executives with their culinary knowledge and insight.
That was the case, Tuschman said, with both Olympic skater Brian Boitano, whose show "What Would Brian Boitano Make" recently debuted, and Animal Planet's Jeff Corwin, who is hosting Food Network's "Extreme Cuisine."
"It's not that we are closed to celebrities, but food has to be really a driving passion with them for our viewers to embrace them," Tuschman said.
E-mail to a friend

All About Food and Cooking • The Television Food Network, G.P. • Celebrity News