By Lisa Respers France
CNN





(CNN) -- It's only been a dozen years, but the landscape of television is very different from what it was when "Ally McBeal" was in its heyday.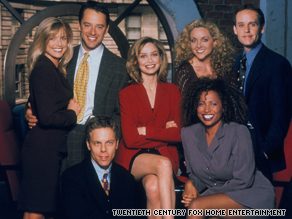 Ally McBeal and the gang are back with the release of the full series on DVD.
When the hit show debuted in 1997, the world of reality television consisted mostly of MTV's "The Real World" and Fox's "Cops." Sitcoms and dramas were still king.
It was in that environment that the quirky "McBeal," about a 20-something single attorney and the eccentric law firm where she worked, exploded onto the scene -- complete with a dancing baby, a waiflike star and a devoted audience.
The entire series -- five seasons -- was released in a 32-disc DVD collection Tuesday. Season 1 came out the same day.
The set includes all of the show's original music, featured on "The Best of Ally McBeal" soundtrack, as well as bonus material including a retrospective of the hit David E. Kelley series.
The exploits of McBeal, an attorney navigating -- at times comically -- the drama and pitfalls of singlehood, resonated with viewers. McBeal's colleagues included her first love, his wife, and a pair of law partners, John Cage and Richard Fish, who indulged in their own zany escapades. (Fish, played by Greg Germann, had a fascination with older women's wattles.)
Singer Vonda Shepard, the headliner at the bar to which the lawyers retreated, provided much of the musical soundtrack.
It was an unusual show for its time, mixing comedy, drama, music, law and a unisex bathroom.
But Gil Bellows, who played McBeal's childhood sweetheart Billy Thomas, said the show was, at its heart, about love.
"At the core of it was a story about the power and strength of your first love, maybe your true love," he said. "That was something I identified with greatly and I thought the overall writing was sensational. ... The mix of comedy and drama was deft."
The series, which ran until 2002, was the brainchild of Kelley, a former attorney, who made his name in Hollywood as the creative force behind several critically acclaimed shows including "Picket Fences," "Chicago Hope," "Boston Legal" and "The Practice."
Kelley told Reuters he had no idea "McBeal" would become such a huge hit.
"It was such a different animal and I didn't know whether the studio and the network would even get it, much less the public," Kelley said. "I have got to credit Calista [Flockhart] a lot for its iconic reputation. As an actress, she just resonated with the public in a way that a writer can't predict."
Flockhart's slight frame also sparked speculation that the actress had an eating disorder. The "does she or doesn't she?" rumors kept the tabloids consistently buzzing.
The show also led to a debate about McBeal as a role model. Flockhart appeared on the cover of Time magazine -- next to Susan B. Anthony, Betty Friedan and Gloria Steinem -- with the headline "Is Feminism Dead?" The show also reignited interest in R&B veteran Barry White, with Cage, known as "the Biscuit," lip-synching his music.
Shepard, best known for the "McBeal" theme song "Searchin' My Soul," credits the show with launching her musical career.
Shepard was friends with creator Kelley and his wife, actress Michelle Pfeiffer, when she invited the pair to one of her shows in Los Angeles. The performer said she was excited when Kelley said he thought her music would be perfect for a show he was developing about a group of lawyers.
"I was living in New York, lugging my keyboard in the rain, playing to 30 people," Shepard recalled. "I heard him say 'Do you want to do a show about lawyers?' and I was like, 'Sure, yes!' "
Shepard said she had such a gut feeling that the series would do well that she moved back to Los Angeles. She acted as music producer and bit player on the show and her music, including some previously unreleased tracks, make up the "Best of" CD.
There aren't a lot of shows like "McBeal," Shepard said, which pushed the envelope in terms of its storylines and unique characters and embraced music so wholeheartedly.

Find out what some members of the cast are doing now »
"It was such a gift as an artist," said Shepard. "I watched the first episode because I wanted to refresh my own memory and within the first 15 minutes, David had put seven of my own original songs in the show. It was an honor."
Actress Lisa Nicole Carson, who played McBeal's roommate, Renee Raddick, said the fact that the show incorporated such great music was "rare and wonderful."
"To be able to sing on a television show was so great," said Carson, who said she has continued to work on her music since leaving the show. "It was brilliant writing and I have nothing but fond memories of working on the series."
Carson said she believed the casting helped viewers connect with the characters, especially Flockhart, whose portrayal of McBeal she hailed.
Carson, who has been off the scene for several years after success in films like "Love Jones" and "Eve's Bayou," said she is hoping to return to acting.
Playing Raddick was an incredible experience, she said.
"What attracted me to the role is the fact that she was strong, professional and intelligent," Carson said. "Those things really appealed to me at that time. I thought that was a unique situation, to be able to play an African-American woman on television coming from that space, and I thought it was pretty cool."
Bellows said he believes the series' legacy of mixing drama with comedy, and using music to explore its themes and its characters' inner lives, lives on in current shows such as "Grey's Anatomy" and "Glee."

"Ally McBeal" meant so much to its fans, Bellows said, that he hopes the release of the series on DVD will bring joy to past fans -- and maybe capture some new ones.
"One of the wonderful things about a television show that works is that it becomes such a part of people's lives and they invest so much in it," Bellows said. "I hope it gives people a chance to reconnect with an old friend, and for the generation that was too young to watch it when it was on, it gives them a chance to see what all the fuss was about."
E-mail to a friend

All About Ally McBeal • Calista Flockhart • David E. Kelley • Television